How to Use Fresh Turmeric

 
at Home 
As a crucial ingredient in the delicious curries that we know and love, ground turmeric is a staple in most people's spice cupboard. However, fresh turmeric root not only retains more of the health benefits, but it might also just add a more intense flavour to your dishes than ground turmeric, allowing you to make the most of the deliciously earthy taste. 
If you're used to adding a sprinkle of ground turmeric to your recipes, you might be wondering how to use fresh turmeric in your cooking instead. Although the preparation might take a little longer, using fresh turmeric in your recipes is certainly worth the additional effort. Explore our tasty fresh turmeric recipes below for some simple ways to incorporate this flavoursome root into your diet to enjoy the health benefits of turmeric: 
Where to Buy Fresh Turmeric 
Wondering where to buy fresh turmeric from? You'll be pleased to know that this tasty, health-boosting root is readily available at supermarkets and health food shops. Usually found alongside fresh ginger, you should have no problem getting your hands on some fresh turmeric root.   
Do You Have to Peel Turmeric?
Like ginger, it's best to peel turmeric before adding it to your recipes. Depending on the size and shape of the root, you can use a vegetable peeler, knife or even a spoon to scrape off the peel.  
Although it's advised to peel turmeric, there's no real reason why turmeric peel can't be eaten. If you want to skip this step, then be sure to thoroughly wash your turmeric root as you would with your fruit and vegetables. 
The Best Fresh Turmeric Root Recipes 
From sweet (yes, sweet!) to savoury, turmeric lends itself to a huge variety of recipes. So, whether you're looking to add an extra kick to your breakfast, or new ways to spice up your mid-week ramen – these tasty recipe ideas are sure to inspire you.  
Turmeric Scrambled Eggs 
Scrambled eggs on toast is one of the healthiest breakfasts you can consume. Filled with a nutritious balance of protein, fats and carbohydrates, it'll keep you full and energised until lunch time.  
If you're looking to jazz up your traditional scrambled eggs, adding turmeric root is the way to go. Simply add your eggs, milk and 1-2 tsp of grated turmeric to a bowl and whisk together until well-combined. Cook to your desired consistency, and enjoy! 
Health-Boosting Turmeric Smoothie
With its spicy, punchy flavour, you might be sceptical about using fresh turmeric in a sweet recipe, but trust us – it works! Smoothies are one of our favourite 'sweet' recipes to incorporate a nutritional punch of turmeric root into. Packed full of vitamins and minerals, smoothies are a convenient way to ensure you're getting your 5-a-day, especially if you lead a busy lifestyle. But how do you use fresh turmeric in smoothies without overpowering the delicate taste of fruit and vegetables? We've got the top tips for you. 
When incorporating turmeric into your smoothie recipe, it's important to remember that less is more. Stick to a piece of turmeric no bigger than ½-1 inch so that you don't mask the other flavours in your smoothie. Alternatively, add one of our tasty Raw Turmeric shots for a potent 35g dose of fresh raw turmeric. 
Although turmeric makes a healthy addition to any smoothie, there are certain flavours that really pair well with it. Some of the best ingredients to combine with turmeric in a smoothie include: 
Whether you choose a delicious combination of orange, carrot, ginger and turmeric, or opt for a tropical mango, banana, pineapple and turmeric smoothie – you'll reap the benefits of all of the delicious ingredients in one convenient drink.  
Delicious

 Turmeric Soup 
There's nothing quite as comforting as a big, warming bowl of soup on cold winter days. Like smoothies, soups can pack a real nutritional punch and make it easier for you to up your intake of nutrients.   
Creamy, nutritious and full of flavour - it's no surprise that butternut squash soup is one of the most searched-for soups in the UK, with a whopping 74,000 Google searches every month! Rich in vitamins A and C, butternut squash is thought to help maintain normal vision, promote skin health and reduce the risk of chronic disease.  
However, when paired with antioxidant-rich ginger and turmeric roots, the nutritious butternut squash soup is transformed into a  dish that's loaded with powerful health benefits. So next time you find yourself with excess butternut squash to use up, add some fresh raw turmeric and ginger roots to boost the flavour and the benefits. 
Turmeric and Ginger Ramen 

 
As a good source of protein, carbs, vitamins and minerals, ramen is an easy, healthy and filling weeknight meal.  
To add a nourishing punch, simply add 1 tbsp of grated turmeric and 2 tbsp of grated ginger root to your usual broth recipe (or follow our delicious Miso Tofu and Ginger Ramen recipe) to add a whole load of flavour and create a deeply  delicious dish. 
From scrumptious butternut squash and turmeric soup, to innovative turmeric breakfast recipes – no matter how you incorporate fresh turmeric into your diet, it's a nutritious, tasty root that boasts a number of health benefits. For an additional way to include fresh raw turmeric into your day, why not explore our range of 100% natural raw turmeric shots? With a punchy 35g of fresh raw turmeric in every bottle, you can afford to have a couple of days out of the kitchen, safe in the knowledge that you're still including fresh turmeric in your diet.  
Real People, Real Reviews
Swipe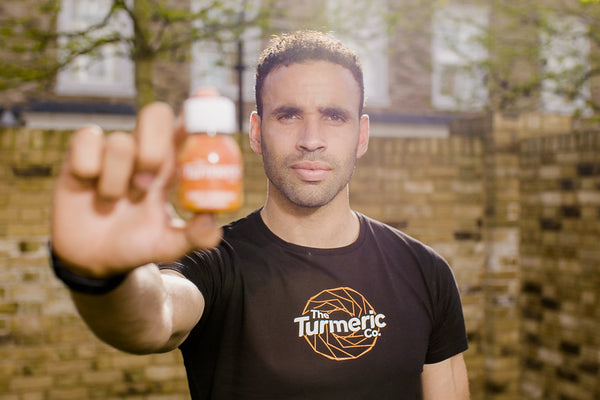 The Hal Robson-Kanu Guide To Fitness & Nutrition
Gain exclusive insight into habits that will make every day a healthy and fulfilling one.