Easy breakfast recipes for turmeric in the morning
Rise and shine! Breakfast is the most important meal of the day, yet some of us still skip it in favour of an extra 10 minutes in bed. If you're not a 'breakfast person', you're probably feeling uninspired by your regular cereal and toast. You don't need to be a top-quality chef or experimental foodie to make an easy, balanced breakfast, so why not try something new that also gives you a taste of turmeric in the morning?
Turmeric is a very versatile spice. It can be used in savoury recipes, such as turmeric eggs and curries, but it can also be used in sweet recipes such as pancakes and smoothies. It has a naturally sweet, earthy flavour that doesn't overpower, but complements its other recipe components. This is why it is used alongside other spices like ginger and pepper; they taste great together, but they also have combined health benefits (trust us, we've look at the science).
Try out some of these delicious and super-simple turmeric breakfast recipes that, with a few simple tweaks, adds extra goodness into your diet. 
Turmeric Scrambled Eggs
Eggs are full to the brim with goodness – in fact, they contain a little bit of almost every beneficial nutrient your mind and body needs. Your typical egg contains protein, healthy fats, vitamins A, B, D and more, so incorporating them into your diet is a must-do.
Adding in turmeric is a great way to boost this goodness whilst adding a different flavour dimension, too.
Turmeric Scrambled Eggs Method
To make turmeric scrambled eggs, try whisking together 2 eggs, milk (or your chosen dairy substitute), and a teaspoon of turmeric and season with some salt, pepper, and garlic. Fry it lightly in a pan until nicely scrambled, serve on toast, and dig in.
Add in some extras to your turmeric scrambled eggs
If you want to double-down on a healthy breakfast, add spinach to your scrambled eggs for an extra boost of vitamin-rich fibre. Alternatively, you can also add in mushrooms, peppers, tomatoes, and onions depending on your preference.
Turmeric eggs alternative – fried eggs vs. scrambled
Not a fan of scrambled eggs but still want to incorporate the health benefits of them and turmeric into your diet? This recipe also works for fried eggs. All you need to do is fry the spinach first alongside your onions, tomatoes, and turmeric. Then, make a little well in the middle of the sauteed vegetables and fry your egg, so you can still reap all of the nutritional goodness with a turmeric eggs recipe that suits your taste.
More easy recipes for your hit of turmeric in the morning
If you like the sound of these recipes and those that follow, you'll definitely want to try:
Turmeric Porridge
Porridge is a popular breakfast food; the oats are a great source of carbohydrates and slow-release energy, but they also swell by absorbing water to keep you fuller for longer. When looking for quick and easy turmeric breakfast recipes but not sure where to start, turmeric porridge is a handy option because you might already have most of the ingredients.
Turmeric Porridge Method
Combine 1 cup of oats and 1.5 cups of milk (about 375m in a measuring jug) in a saucepan and gently cook on the stove until it bubbles. Sprinkle in your turmeric – about a teaspoon – and add any other spices or sweeteners such as cinnamon, ginger, and sugar. Stir it frequently and if it gets too dry or too thick for your taste, add a little more milk. Then, simply serve and enjoy.
Add in some extras to your turmeric breakfast porridge
As well as your chosen spices and sweeteners, you can also add in some freshly squeezed orange juice if you fancy a fresh kick. Alternatively, if you have a sweet tooth, you can stir in honey or golden syrup once the porridge has thickened enough and is almost ready to serve. Because turmeric can complement both sweet and savoury flavours, you can follow this same recipe without adding the sugars and spices if you prefer your porridge unsweetened.
Turmeric yoghurt and fruit
Turmeric yoghurt is a fresh and creamy alternative to the hot turmeric breakfast recipes we've looked at so far. If you prefer your breakfast fruity and refreshing, then you should definitely try this recipe.
Turmeric yoghurt and fruit method
This one is fairly simple… Combine 2 cups of yoghurt or your chosen dairy alternative, between ½ to a full teaspoon of turmeric depending on your taste, some cinnamon, and frozen fruit and voila… You have your turmeric yoghurt and fruit bowl.
Add in some extras to your turmeric yoghurt
We'd recommend using frozen blueberries, blackberries, raspberries, and strawberries for this recipe. Go the extra mile and mix in chia seeds, shaved coconut, or toasted almonds too to add different flavours and some crunch. If you prefer your yoghurt a little sweeter, mix in a teaspoon of maple syrup or add chopped banana on top.
Turmeric Smoothie Recipe
Breakfast smoothies are very popular, and they're an efficient way of getting plenty of fruit and fibre into your breakfast. When you want to make sure you're starting your day right with turmeric in the morning but don't have the time to make porridge or eggs, follow one of these simple recipes:
Tropical turmeric smoothie method
For your tropical turmeric smoothie recipe, you'll need finely chopped fresh ginger, turmeric powder, frozen mango, frozen pineapple, and frozen banana. You can do this recipe without freezing the fruit first, but doing so with fresh fruit can make your smoothie more frothy. Freezing it first keeps it thick and drinkable, everything you want in a smoothie.
To keep thickness, you could even make your turmeric into a paste by boiling it in water in a small saucepan over a low heat. Within a few minutes you'll have a turmeric paste that will combine well with the creamy texture of the frozen fruit. Alternatively, you can add in one of our turmeric shots for the kick you need, without making the paste.
Blend all of this together until smooth and then serve – simple!
To keep experimenting with turmeric breakfast recipes and smoothies, why not try our fresh carrot, apple, and turmeric smoothie?
Taking Turmeric in the morning in a shot
If you're someone that needs their breakfast on the go, or you're in a rush, then even these quick and easy recipes might not be feasible every day. If this sounds like you, then getting your turmeric is going to be far easier for you with a shot. Packed full of raw turmeric, which in turn is full of beneficial curcumin, and added black pepper extract to aid in its absorption, this daily shot will give your morning the 'kick' it needs.
Try our mixed shot box, which includes all three of our popular ranges, or keep it simple with the original turmeric shot box. You can add these shots into your smoothies, or simply take them on their own – great for on-the-go and those mornings when you need those extra 10 minutes in bed… Shop our range today!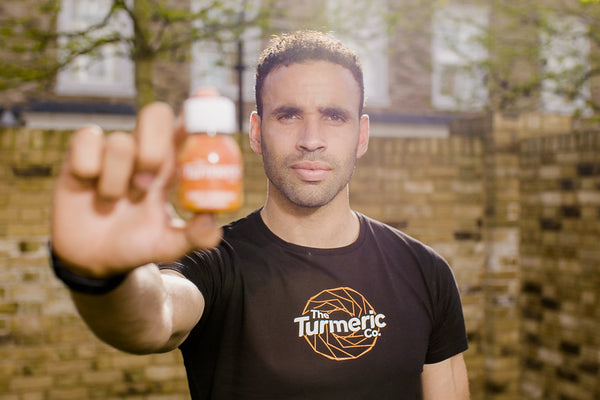 The Hal Robson-Kanu Guide To Fitness & Nutrition
Gain exclusive insight into habits that will make every day a healthy and fulfilling one.