The Turmeric Co. is pleased to announce its partnership with Palace for Life to fuel its upcoming Bike To Villa challenge on March 3rd.
To support the riders taking on this 140-challenge, The Turmeric Co. is giving a month's supply of their 100% natural turmeric shots to all taking part. These shots are designed to help the riders with their training, the ride itself and their recovery.
The Bike to Villa event is the third in a series of cycling-based fundraising challenges organised by Palace for Life, that aim to raise vital funds to help transform the lives of young south Londoners. 
Already partnered with Crystal Palace Women, The Turmeric Co. already provide The Eagles' with shots to aid performance and recovery. Working closely with Robson-Kanu's father, Rechi, to create these products, The Turmeric Co.'s unique combination of ingredients optimises the benefits of the shots to particularly aid recovery for the riders.
Thomas 'Hal' Robson Kanu, Founder and CEO at The Turmeric Co. said: "We love to support great things happening in sport, and this is another wonderful example. Our work with Palace recently has highlighted to us all of the great work the club is doing, across the professional game as well as community engagement and vital fundraising. The Bike to Villa challenge is going to be tough for all involved, who will put their body through a gruelling ride, so we hope that our shots will provide the nutritional support they need to ensure proper performance and recovery."
The Turmeric Co. makes turmeric shots using a specialised extraction technique to ensure that the active ingredients in turmeric root are not diluted during production. This enables the shots to provide a range of nutrients whilst maintaining the fresh, natural flavours of the quality ingredients - making them not only good for you, but also delicious! The Bike to Villa riders should feel sufficiently energised and raring to take on the challenge in a few weeks' time!
All riders signed up will receive an email on how to claim their free month's supply.
Bobby Webbe, Senior Fundraising Coordinator at Palace for Life said: "It's fantastic to have Thomas & The Turmeric Co. involved in our Bike to Villa! They are already supplying many professional athletes & teams, so we were delighted that they wanted to support our fundraising bike ride. Their generous offer to provide each of our riders with a month's supply of shots will be a great help throughout training, the ride itself, and recovery – ultimately improving the experience for each of our riders. I hope that this will be the start of a great partnership!"
For more information about the Bike to Villa and Palace for Life Foundation, head here. To learn more about The Turmeric Co. and its products, visit www.theturmeric.co.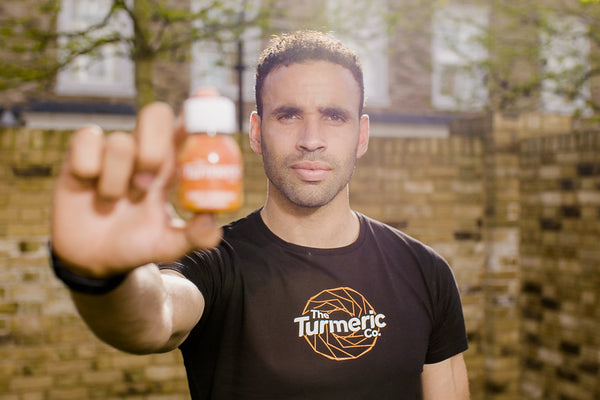 The Hal Robson-Kanu Guide To Fitness & Nutrition
Gain exclusive insight into habits that will make every day a healthy and fulfilling one.