Click the ingredients to discover more

Each ingredient in our shots is chosen specifically for its nutritional benefits.
Turmeric has been proven to be one of nature's most potent ingredients. In this case, its combination with Beetroot makes this shot highly nutritious, an excellent source of magnesium and can help to support healthy functions, including the promotion of blood flow and digestive health.
Ingredients: WATERMELON, TURMERIC ROOT (30%), BEETROOT (15%), POMEGRANATE, LEMON, GINGER ROOT, FLAX OIL, BLACK PEPPER. No sweeteners, No Apple Juice, No Water, No Preservatives.
| | per 100ml | per 60ml |
| --- | --- | --- |
| Energy | 162kJ | 98kJ |
| Energy | 38kcal | 23kcal |
| Fat | 0.7g | 0.42g |
| of which saturates | 0.09g | 0.05g |
| Carbohydrates | 7.2g | 4.4g |
| Sugars | 6.4g | 3.8g |
| Protein | 0.81g | 0.49g |
| Salt | <0.01g | <0.01g |

Beetroot is an amazingly potent superfood, providing certain essential nutrients, vitamins and minerals.
Where this superfood excels is that it's a great source of dietary nitrates, which help your body produce Nitric Oxide. This shot offers a convenient and easy way for you to ensure that your body gets essential Nitric Oxide, which can support naturally occurring levels of circulation. This particular beetroot shot has been used extensively by elite athletes to support performance and recovery given its curcumin + nitrate combination, making it a fantastic pre-activity shot.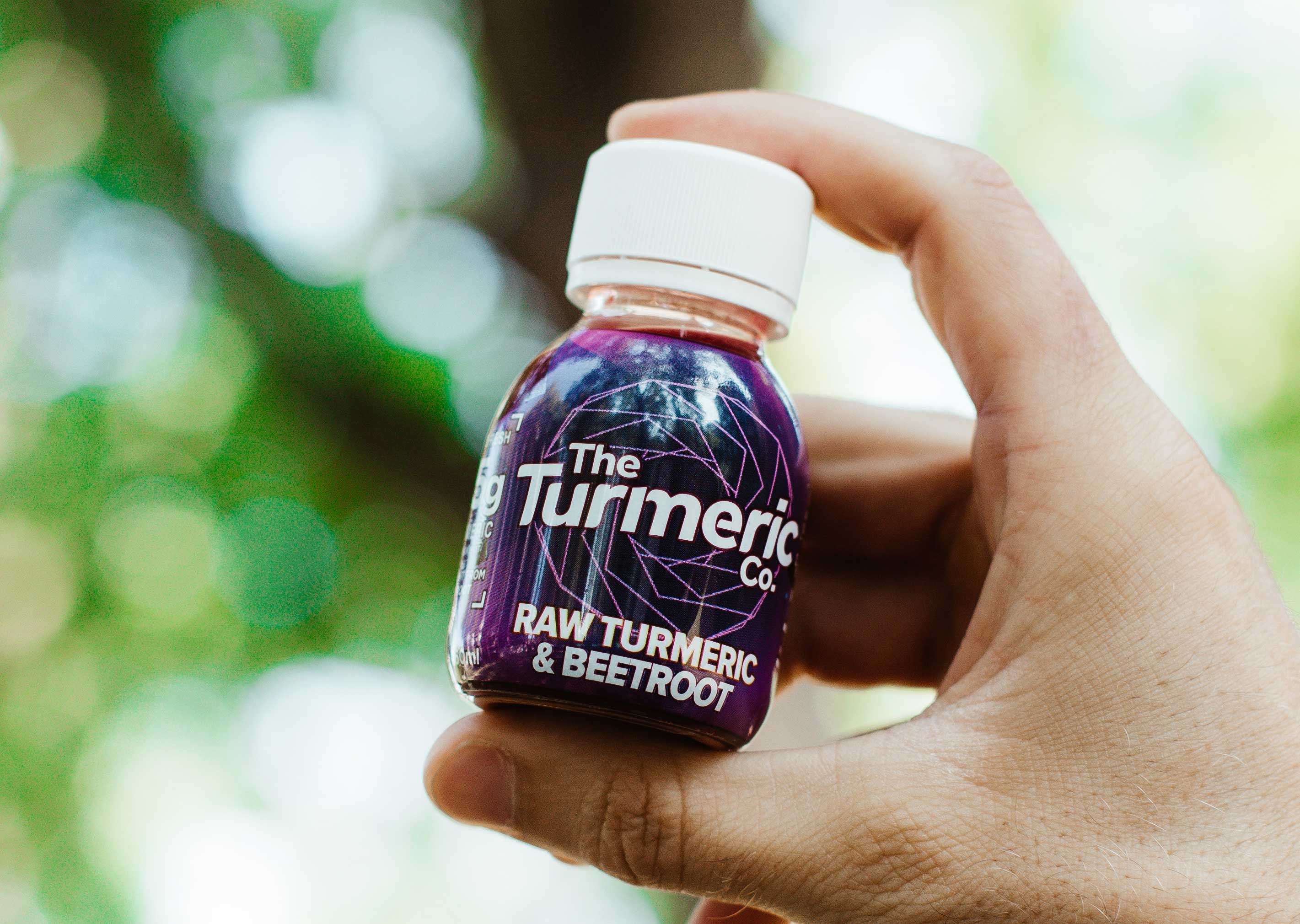 Tips to follow to get the most out of your Turmeric Co. Shots
Our shots are a powerful natural addition to your daily routine. To feel the longer-term benefits of our range, we recommend drinking one shot each day, an integral addition to a healthy ritual. Many of our customers enjoy taking their shot first thing in the morning or immediately after any activity.
Storage
Our shots are made FRESH, and we distribute them in chilled packaging. When they arrive, unpack your box and refrigerate the bottles right away to keep them fresh.
Refridgerate

Unpack your box of shots and keep them in the fridge

1

Drink!

We recommend 1 shot each morning, best taken on an empty stomach - Although this part is completely up to you (Shake well before opening)

2

Hot Tip

Why not try pouring your favourite shot into a mug of boiling water with a squeeze of lemon and honey

3

Recycle

The box insulation and icepack can be returned back to us. The bottles are also 100% recyclable

4

Does the sodium and potassium in your shots occur naturally?
Yes, absolutely! The high content of these minerals are natural. We don't add anything to our shots other than fresh, raw fruits and vegetables.
Is there a specific time I should use this shot?
Given the oxygenating effect beetroot has on the blood, this shot can be a great pre-workout boost. Although we usually recommend our shots be drunk first thing in the morning or as a post-workout recovery drink, this shot especially has supported the England Rugby Team before sessions of intense exercise.
My urine has turned a pinkish colour. Should I be worried?
Not at all! This occurrence is common. Known as 'beeturia,' this occurs in around 10% of people and is caused by the presence of a beetroot pigment (betacyanin) in the urine.
Are your shots fresh?
Our shots are treated with a high pressure cold press. Although this gives our drinks a slightly longer shelf life without compromising the nutritional benefit of the ingredients, they should still be treated as a fresh product. Our shots should be refrigerated immediately on arrival to ensure they stay fresh.
What is the Turmeric Co.?
The Turmeric Co. is a range of forward thinking functional Turmeric drinks in a convenient shot. They have been perfected over 10 years' worth of development and were created to combine a variety of different natural products to support your daily well-being. The Turmeric Co. offers natural blends of fresh and organic ingredients, made with our unique extraction process, ensuring the purest natural form available.
Why turmeric?
Turmeric, is a natural source of Curcumin. This plant is native to South East Asia, also found in Africa and is part of the ginger family. Its use as a spice in cooking has been established over hundreds of years. Fresh turmeric offers a natural source of curcumin. All of our shots contain black pepper. Black pepper is a natural source of piperine. Piperine in combination with turmeric has been shown to increase the absorption of Curcumin into our system.
What else is in your turmeric shots?
Every ingredient that's combined with the fresh Turmeric root is handpicked for its quality, natural and fresh. This means you're getting the very best of each ingredient's nutritious properties that hugely contribute to your well-being. Watermelon – Our base ingredient. Also known as one of nature's most powerful hydrators.
 Pomegranate – providing more than 100 phytochemicals, from this jewel like fruit
 Pineapple – delicious sweet addition,
 Lemon – Full of zest, enhancing and preserving naturally the nutrients within our shots.
 Piperine extract – included to help the absorption of what nature provides naturally within our shots.
Do you add any preservatives or sugars?
We never add any artificial preservatives, sugars or sweeteners. You're in good hands! We're proud to say there are no other ingredients used when creating our delicious shots, other than those on the ingredients list.
Is there a risk of cross-contamination during the process?
Our shots are made in a custom-built production facility which is SALSA certified, with a 5-star food hygiene standard rating. Its sole purpose is to create our Turmeric based shots to the highest standards with a minimal risk of cross-contamination.
How and when should I use a turmeric shot?
Many of our customers enjoying our range drink them first thing in the morning, before eating on an empty stomach - if you can handle the kick! Our shots are also great post-workout as its an opportunity to support recovery time, with a refreshing shot to shake you awake. Feel good and refuel naturally.
How many shots do you recommend per day?
We recommend starting off with one shot per day, we make every shot in our bespoke production facility with our production specialists, and you guys have certainly been keeping them busy! We try our best to always fulfil the demand, and your patience is appreciated at times.
Can I consume more than one turmeric shot per day?
Yes, you can. Some of our customers prefer to start and end the day with one of our shots. For some people their daily routine begins with a cup of coffee, break the mould and consider kick starting your day with one of our turmeric shots. Our shots deliver to you the convenience of fresh great tasting ingredients in one small serving, giving you the time to invest in your health and well-being is our collective message - enhancing energy wellness through natural nutrition.
Who uses your shots?
Athletes from all walks of life choose to use our shots to stay on top of their game. We are proud to regularly supply members of the England Rugby team with our Turmeric Co. shots. Their feedback is that they use them both pre and post training. They love them.
Should I consume a turmeric drink all in one go?
We recommend drinking our shots all in one go. You can also mix your shot into a smoothie of your choice! However, a lot of people enjoy the instant 'kick' it gives in consuming it as a shot-in-one.

Our NEW plastic bottles are made of entirely eco-friendly material, produced from 75% recycled plastic (rPET) and 25% biodegradable plastic, developed from sugar cane instead of environmentally damaging fossil fuels, and are therefore fully recyclable. It's the only environmentally friendly solution for our 100% fresh cold-pressed products that are naturally preserved under HPP to retain freshness.
Recycling
We'd love your help by participating in our recycling initiative. Return the insulation and ice packs in your box, and even your bottles. Print out your prepaid envelope (the link for this can be found in your order confirmation email, or request the link directly from us at info@theturmeric.co with your order number in the subject). And take your recycling bag to your local Royal Mail office with your label attached.