5 Ways to Boost Your Morning Coffee 
Whether you're partial to the sharp kick of an espresso, or the sweetness of a pumpkin spiced latte, there's no denying that a warming cup of coffee is a great start to the day. On average, a whopping 95 million cups of coffee are consumed in the UK every single day. Given that the estimated population of the UK is 67 million, we're drinking a whole lot of coffee!  
If you're a self-confessed coffee addict, then there's no doubt that you will have tried all the different varieties. But if you're looking to really spice up your life, these are some of the best natural ingredients that will transform your daily dose of caffeine.  
Your coffee game is about to be changed forever. 
Is Coffee Good for You?
If you can't go a day without a cup of coffee, you might be wondering if coffee is actually good for you.  
As with any food or drink, coffee should be enjoyed in moderation as part of a healthy, balanced diet. Whether you treat yourself to a decadent mocha with extra cream and syrup once in a while, or keep it simple with a black Americano – a moderate amount of coffee can actually be beneficial to your health.  
Some of the biggest health benefits of coffee include:  
The FDA advises that healthy adults consume no more than 400 milligrams of caffeine per day, which is around four cups of coffee. Any more than that, and you risk some of the negative side effects of too much caffeine, which can include: 
Insomnia or disturbed sleep patterns 

 

Anxiety 

 

An increased heart rate 

 

Digestive issues 

 

Headaches 

 

Nausea 

 

Frequent urination

 
Additionally, people with certain health conditions are not advised to consume coffee, including pregnant women, children and people with arrhythmias. Always check with your GP if you think coffee might be having adverse effects on your health to determine your suitability.  
1. 

Turmeric Coffee 
If you want to enhance your coffee with added health benefits, then turmeric coffee may be your new best friend.  
Turmeric lattes have become one of the trendiest new drinks over recent years. More than just the perfect blend of warming spices, turmeric lattes boast a number of health benefits. High in antioxidants and free from caffeine, this spicy drink could transform your morning routine. 
However, if you're not prepared to go totally caffeine free,putting turmeric in black coffee is also a popular option. Simply add one of our Raw Turmeric shots to a freshly brewed black coffee, add sweetener if desired and you're ready to sip away!  
So whether you're looking for an alternative to caffeine, or simply wanting to give your Americano a nutritional boost – turmeric coffee is sure to be your new go-to. 
2. 

Cinnamon Coffee 
If you're a lover of the classic chai latte, then cinnamon coffee may just become your newest obsession.  
Aside from being extremely tasty, cinnamon boasts some surprising health benefits. From its purported anti-inflammatory properties to its potential to help lower blood sugar – it's far more than just a delicious spice.  
To make cinnamon coffee, simply add some ground cinnamon to your coffee granules and top up with hot water. Add milk and sweetener to taste, and finish off with a cinnamon stick if you're feeling really fancy. 
3. 

Coffee and Mint 
Bear with us on this one.  
Although mint is more commonly enjoyed as a tea, it actually makes a great addition to coffee too.  
Mint is believed to have antibacterial and anti-inflammatory properties, as well as aiding digestion and helping to relieve bloating and headaches. Plus, it'll leave you feeling minty-fresh each morning!  
Simply add a couple of mint leaves or peppermint oil to your coffee, stir and enjoy! You might be sceptical to try it, but coffee and mint make the ideal pairing.  
4.

 

Add Butter & Coconut Oil to Coffee 
A firm favourite in the world of keto, bulletproof coffee is thought to be able to: 
To make, brew your favourite coffee and add to a blender with ½-1 tablespoon of your choice of coconut oil, ghee or butter, blend until a foamy layer has formed, then serve and enjoy!  
5. 

Ginger Coffee

 
Like turmeric and cinnamon, ginger is another spice which works perfectly in a cup of coffee.  
Rich in antioxidants, ginger is thought to be able to support the immune system, relieve nausea and even help to manage symptoms of osteoarthritis. 
Ginger coffee could not be easier  to make. Start with some ground coffee to your favourite mug, add a teaspoon of ground ginger (or a Raw Turmeric & Ginger shot for even more health benefits!), top up with hot water and add a little orange zest, milk and sweetener to taste! 
Whether you go caffeine free with a turmeric latte, try out a bulletproof coffee from the world of Keto, or simply add a sprinkling of cinnamon to your morning cappuccino – these five ingredients are sure to transform your daily caffeine fix. We'd love to see how you get creative with yours, so don't forget to tag us in your coffee snaps on Instagram! 
Real People, Real Reviews
Swipe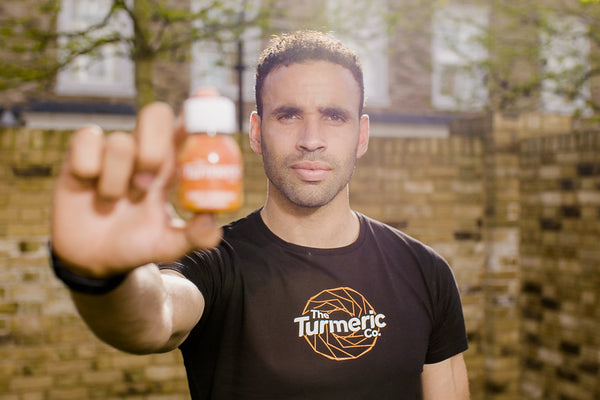 The Hal Robson-Kanu Guide To Fitness & Nutrition
Gain exclusive insight into habits that will make every day a healthy and fulfilling one.