The Health Benefits of Golden Milk 
Whether you're looking to cut down on your caffeine intake, or ease those winter aches and pains – turmeric milk might just be the winter warmer you never knew you needed.  
Filled with health-boosting antioxidants and reported anti-inflammatory powers, the health benefits of golden milk are really quite surprising. Aside from being delicious, warming and truly comforting – these are some of the main turmeric milk benefits that will help you to breeze through the winter months.  
What is Turmeric Milk?
Also known as golden milk, turmeric milk is a warming blend of turmeric and other complementary spices, topped up with plant-based milk and enjoyed as a latte.  
Truly soothing and delicious, golden milk has been enjoyed in India for centuries and has recently gained notoriety in Western cultures due to the purported health benefits (and delectable flavour!).  
Some of the best turmeric milk recipes include the following ingredients:  
Turmeric (grated is best, but ground turmeric works too!) 
Black pepper

 

Ground or grated ginger 

 

Plant-based milk 

 

Honey 

 

Cinnamon

 
Spicy, warming and with a hint of sweetness from the honey – turmeric milk can be enjoyed at any time of the day. Simply fill up your favourite mug and enjoy!  
What are the Health Benefits of Turmeric Milk?
Not just a super tasty, warming drink – turmeric milk boasts a number of different health benefits.  
From being rich in health-boosting antioxidants, to even improving your mood – some may just surprise you!  
It's Filled with Antioxidants 
If you're looking to maintain your health, then antioxidant-rich food and drinks should be at the top of your list.  
Antioxidants are compounds which can help to fight free radical damage within the body, providing you with some protection against the chronic health problems which can ensue. 
By sipping on a cup of golden milk, you'll be filling your body with antioxidants from the turmeric, ginger, cinnamon and honey – it really is a potent combination! In fact, it's no wonder it's been used in Ayurvedic medicine for centuries!  
Turmeric Milk is Caffeine Free 
Whilst many people may reach for a cup of coffee or two to get them through the day, more and more people are looking for alternatives to caffeine to avoid unwanted side effects, including:  
Anxiety 

 

Headaches 

 

Digestive issues 

 

Dehydration

 
When trying to cut down on caffeine, turmeric milk is the ideal alternative. Not only is it caffeine free, but with all of these health benefits, you'll wonder why you didn't ditch your morning coffee before! 
May Reduce Inflammation in the Body 
Perhaps one of the most well-known health benefits of turmeric is its purported ability to reduce inflammation within the body.  
That's down to its active compound, curcumin, which can help to suppress the molecules in the body which are responsible for triggering an inflammatory response.  
Although inflammation is a natural – and sometimes necessary – function within the body, chronic inflammation can lead to several health conditions, such as:  
Type 1 diabetes 

 

Arthritis 

 

Some skin conditions

 

Asthma 

 
If you were wondering why black pepper is added to a cup of golden milk, it's because it contains a compound called piperine, which increases the bioavailability of curcumin by up to 2000%! So, if you're looking to reap the anti-inflammatory benefits of turmeric milk, be sure to include that all-important pinch of black pepper!  
Winter Blues? Turmeric Milk Could Help!
As the dark nights and shorter days draw in, many people report feelings of low mood and depression, also known as the 'winter blues'. 
It's estimated that over 2 million people in the UK are affected by these feelings each year - including children. However, it's thought that turmeric may be a natural mood-boosting remedy that could help to alleviate some of these symptoms.   
That's because turmeric's active compound, curcumin has demonstrated the potential to be able to help improve mood and reduce feelings of stress and anxiety. Studies have found a link between depression and chronic inflammation, so with its purported anti-inflammatory properties, turmeric may be able to alleviate some of these symptoms.  
Whether you enjoy a few cups of turmeric milk throughout the day or incorporate it into your morning routine alongside your favourite turmeric shot – you may just start to notice the benefits of turmeric milk in just a matter of weeks! Explore our range of delicious, nutritious shots today to support your health and wellbeing.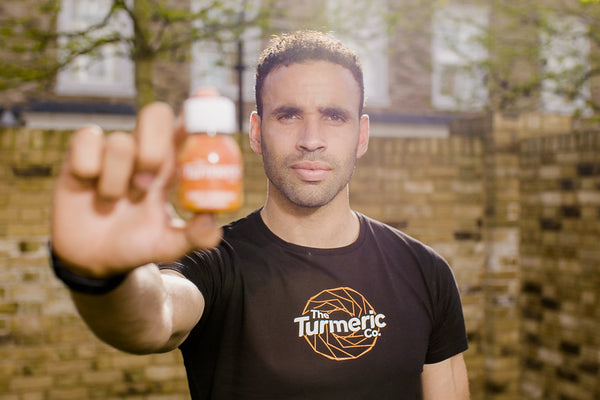 The Hal Robson-Kanu Guide To Fitness & Nutrition
Gain exclusive insight into habits that will make every day a healthy and fulfilling one.