What Are Superfoods (and is Turmeric Considered to be One)?  
If you read any health magazines, watch cooking shows or follow wellness bloggers, you're sure to have heard the term 'superfood' flying around. But what are superfoods?
 Superfoods are foods which are thought to provide superior health benefits or nutritional value than other foods. For those looking to embark on a wellness journey, or just trying to incorporate more vitamins, minerals and antioxidants in their diet, superfoods could be an excellent place to start.

Top view of bowl with healthy fresh vegetable salad and chopsticks placed on cloth on table with ingredients

Whether you buy into the superfood trend or not, there's no denying that filling your diet with a plethora of nutrients is excellent for your health.

So, what are considered superfoods and how can you incorporate more of these health-boosting ingredients in your diet? We've got the lowdown for you. 
What are Considered Superfoods? 
There is no set criteria for what can be considered as a superfood, however, it is defined as 'a food (such as salmon, broccoli, or blueberries) that is rich in compounds (such as antioxidants, fibre, or fatty acids) considered beneficial to a person's health)'.

However, there is often speculation as to whether or not superfoods really exist. Although the term is primarily used for marketing purposes, it can be useful to point people in the direction of nutritionally dense foods which may positively impact their health, helping them to make better food choices.

However, it is also important to note that no single food can offer all of the vitamins, minerals or energy we need to thrive, so it's important to incorporate a range of foods into your diet to remain as healthy as possible.
Some of the most popular superfoods include:
Avocado
Berries
Kale & spinach
Broccoli & cauliflower
Salmon
Garlic
Sweet potato
Is Turmeric a Superfood? 
With so many health benefits to shout about, you might be wondering if turmeric is a superfood.
Having been used in ayurvedic medicine for centuries, turmeric is rich in a number of health-promoting nutrients, including:
In addition to these nutrients, turmeric is also thought to possess anti-inflammatory and antioxidant properties, thanks to the active compound, curcumin, which could potentially alleviate a number of health conditions. For this reason, turmeric has certainly achieved superfood status. 
However, unlike some other superfoods, such as broccoli, spinach or blueberries, turmeric has to be taken in its most bioavailable form in order to unleash the benefits. The best way to take turmeric is in a liquid form, along with a sprinkle of black pepper.

From turmeric milk to raw turmeric shots – there are a number of different ways to incorporate this powerful spice into your diet. Our range of powerful turmeric shots are delicious, nutritious and provide a convenient way to reap the benefits of turmeric. But that's not all – our shots also contain a number of different superfoods, including pomegranate, beetroot and lemon.

So, whether you enjoy a superfood salad filled with a variety of health-promoting fruits and vegetables, or add one of our delicious turmeric shots into your daily routine, incorporating a range of highly-nutritious superfoods into your diet is one of the best ways to look after your health. Explore our selection of raw turmeric shots today to get started on your superfood journey.
Real People, Real Reviews
Swipe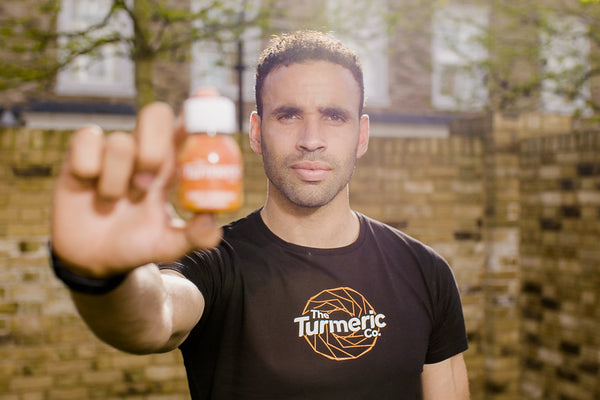 The Hal Robson-Kanu Guide To Fitness & Nutrition
Gain exclusive insight into habits that will make every day a healthy and fulfilling one.