For thousands of years, turmeric has been used in Ayurvedic practices across India and Southeast Asia due to its incredible health benefits. With a powerful flavour and intense yellow colour, turmeric adds a distinctive flavour and vibrancy to any dish. But it's not just a tasty addition to a curry - turmeric boasts several nutritional benefits due to one of its active compounds, curcumin. But what is curcumin and what are its benefits?
Turmeric and Curcumin – What's the Link?
People often ask what the difference is between turmeric and curcumin. Whilst turmeric is a spice found in thousands of kitchens around the globe, curcumin is a chemical compound found within turmeric, thought to make up 3% of turmeric root by weight. It is one of the active ingredients that is responsible for many of its health benefits and its vibrant yellow colour. 
With powerful antioxidant properties it is something that is on many people's radar, but what exactly is curcumin used for?
What are the Health Benefits of Curcumin?
There are several suggested health benefits associated with curcumin, such as contributing to the improvement of skin conditions.
How to Take Curcumin
Unfortunately, when it comes to how to take curcumin and turmeric, it's not as easy as simply including a weekly curry into your diet. Although curcumin is a strong antioxidant, it has weak bioavailability, which means it is poorly absorbed into the bloodstream by the body.
However, the absorption of curcumin can be boosted when consumed alongside black pepper. This is because of a compound found in black pepper called piperine, which is said to enhance the absorption of curcumin by a staggering 2000%!
Piperine helps to make the body more efficient at transporting nutrients, as well as increasing the time it takes for curcumin to be metabolised by the liver, giving your body more time to absorb the key nutrients and reap the benefits of this powerful compound.
People looking to take advantage of the benefits of curcumin should look to consume turmeric in its purest form, such as a raw liquid turmeric shot or drink in order to avoid missing out on any of the active compound properties, which are often depleted during the drying process of ground turmeric.
When you take a vitamin or supplement as a shot or drink, the body doesn't have anything to break down, meaning the nutrients are more bioavailable and can be absorbed more effectively by the body. So when it comes to finding the best curcumin supplement, aside for opting for the liquid form, it's incredibly important to look out for the addition of black pepper (or piperine) and a source of fat, such as flax seed oil in order to maximise absorption - like our raw turmeric shots.
Curcumin Dosage
When it comes to how much curcumin to take per day, there is no official consensus on curcumin dosage. However, studies have suggested that 500-2,000 mg per day can be effective for the general health benefits.
It typically takes 4-8 weeks of consistent daily consumption before people begin to notice the benefits of turmeric. However, the full benefits are not usually felt until after three months of daily use.  
If you're looking to explore the benefits of curcumin and include it in your daily regime, The Turmeric Co.'s raw turmeric shots are the perfect choice. From our Original Raw Turmeric Shot, to our powerful Raw Turmeric & Beetroot Shot - our entire range contains 35g of fresh raw turmeric root in each 60ml shot, packing a powerful nutritional punch. Explore our range today to get started on your turmeric journey.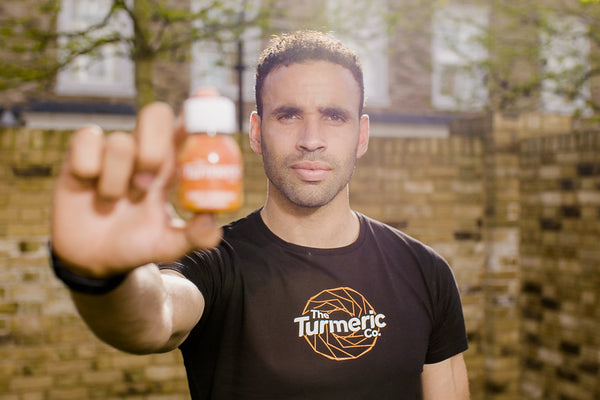 The Hal Robson-Kanu Guide To Fitness & Nutrition
Gain exclusive insight into habits that will make every day a healthy and fulfilling one.