The Turmeric Co. is helping Salford City push for promotion by providing players with their award-winning raw turmeric shots.
Recently approved by the Royal Osteoporosis Society, each of The Turmeric Co.'s products are crafted to nutritionally aid recovery, immunity, energy. Due to the unmatched functionality of their formula, The Turmeric Co. now provide a growing number of professional football clubs and athletes with performance-aiding products.

The 'Ammies' become the second EFL League Two club to partner with The Turmeric Co., meaning that the the likes of Conor McAleny, Matt Smith, and Elliot Watt will now benefit from the same daily support already being enjoyed by a host of Premier League players.

In a bid to save his footballing career 15 years ago, Thomas 'Hal' Robson-Kanu and his father developed The Turmeric Co.'s base formula as a natural alternative to heal two serious injuries that he picked up early in his playing days.

Having experienced the physically demanding nature of an EFL promotion bid himself, Robson-Kanu is keen to help Salford City's playing squad as they move into the business end of the 2022/23 campaign.

Thomas 'Hal' Robson-Kanu, Founder and CEO at The Turmeric Co., said: "Salford City are in a great position in the league, and I know that as the season nears its climax, everyone at the club will be hoping the team make that final successful push. It's all about marginal gains at this point, and our nourishing formula will give the players that edge from a nutritional perspective.

"At this stage of the season, EFL games come thick and fast, and how quickly players can recover from the physical demands of the sport is more important than ever.

"The fact Salford City are the second League Two club to partner with us shows how serious the club is about providing elite support to the squad. We're delighted to be working with Salford City and providing the club players with extra support."

James Parr, Head of Sports Science at Salford City FC added: "We are really excited to be using The Turmeric Co. which provides an amazing product range.

"The lads will use these shots as part of their everyday protocol to keep them on the field and pushing themselves to their absolute maximum. Their recovery is absolutely vital to allow them to keep performing week-in, week-out."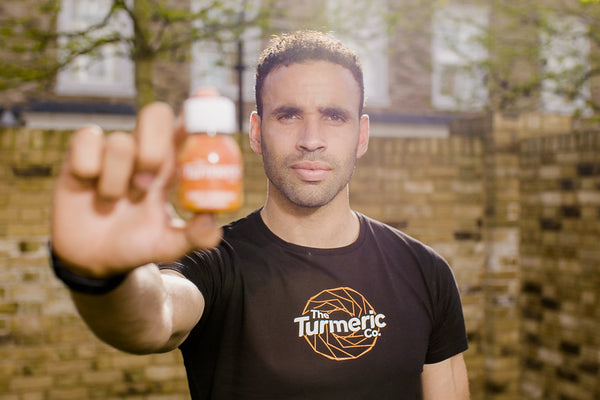 The Hal Robson-Kanu Guide To Fitness & Nutrition
Gain exclusive insight into habits that will make every day a healthy and fulfilling one.