Could a

 

Natural Pre-Workout

 

Help You?
Whether you regularly go to the gym, or you're training for a marathon, you'll know how important it is to get your nutrition right before, during and after exercise. From ensuring you've consumed enough carbohydrate to fuel your session, to prioritising protein and carbs to replenish your glycogen stores and promote muscle repair afterwards – getting your nutrition right is one of the most important aspects of any fitness journey. 
However, no matter how good your pre and post-workout nutrition is, sometimes you might feel like you need an extra boost to avoid mid-workout fatigue. Enter pre-workout supplements.  
Designed to give you more energy during your sessions, pre-workout supplements could help to maximise your training. But what are they and who should consider taking them? 
What is Pre-Workout?
Pre-workout supplements are dietary supplements which have been designed to help improve athletic performance. Pre-workout is most commonly found in powder form and is mixed with water and taken shortly before exercise. When taken in a liquid form, pre-workout supplements are absorbed more quickly by the body, increasing their bioavailability. 
Pre-workout supplements usually contain a blend of amino acids, vitamins, creatine and caffeine; however, ingredients can vary.  
Although these supplements can be a great addition to a gym routine, many people are now seeking more natural pre-workouts to avoid any unwanted side effects – especially from caffeine. 
What Do Pre-Workout Supplements Do?
Usually containing high doses of caffeine, sugar or sweetener and other stimulants, people are often concerned as to whether or not pre-workout is bad for you.  
When it comes to the potential side effects of pre-workout supplements, the most important thing to consider is your caffeine intake. If you're simply consuming your regular cup of coffee in the morning, alongside your pre-workout supplement, then you shouldn't suffer from any adverse side effects – depending on your personal caffeine tolerance, of course! 
However, issues may start to arise if you're a bit of a coffee addict and you're taking pre-workout supplements to fuel your sessions too. The FDA recommends that healthy adults should consume no more than 400 milligrams per day, which is equivalent to around four cups of caffeinated coffee. However, many pre-workout supplements can contain between 100-400 milligrams of caffeine per serving which, if consumed alongside coffee or energy drinks, could pose health risks in the long run. 
With this in mind, many people are opting for more natural performance boosters to help them through their workout and avoid some of the negative side effects associated with synthetic pre-workout supplements. 
What Should I Look for in a

 

Natural Pre-Workout

?

 
If you want to take advantage of some of the benefits of pre-workout supplements without the unwanted side effects, then a natural pre-workout supplement could be the solution for you. 
There are some key ingredients to look for in natural pre-workout supplements, including: 
Yerba mate – thought to boost energy and improve mental focus without the side effects of caffeine

 

Green tea – another caffeine alternative which can provide the benefits without the potential side effects

 

Beetroot

 – a natural alternative to synthetic nitric oxide, thought to lower blood pressure and improve exercise performance

 
Our Raw Turmeric & Beetroot shots are the ideal natural pre-workout supplements. Rich in nitrates, these potent shots are favoured by elite athletes and non-athletes alike as they help to boost sporting performance and enhance recovery. 
Thought to improve time to exhaustion, velocity and endurance, beetroot is the perfect pre-workout supplement for those looking to enhance their performance the natural way. Often present in a synthetic form in pre-workout supplements, nitrates – which are converted into nitric oxide in the body – help to dilate the blood vessels. In turn, this can help to increase oxygen capacity and improve muscle function during exercise – especially during endurance-based activities.  
If you're looking to consume a beetroot shot as a pre-workout supplement, we'd recommend consuming one 2-3 hours before training in order to reap the benefits.  
So whether you're looking to incorporate more natural foods into your diet, reduce your caffeine intake, or simply fuel your sessions the natural way – a Raw Turmeric & Beetroot shot could be the exact thing you need to give your workouts a boost. Shop the range today to see how our potent shots could improve your performance.   
Real People, Real Reviews
Swipe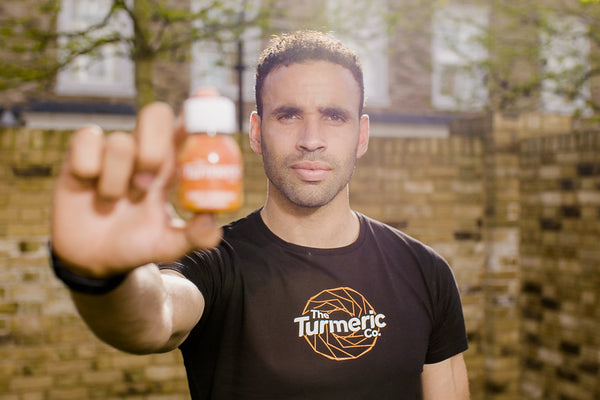 The Hal Robson-Kanu Guide To Fitness & Nutrition
Gain exclusive insight into habits that will make every day a healthy and fulfilling one.