The Turmeric Co. are excited to announce that they are now an official nutrition partner of Leicester Tigers.
This new partnership will see The Turmeric Co. supply the Leicester Tigers team and staff with their full range of turmeric shots.
Founded in 1880, the Leicester Tigers have been playing rugby union for well over a century and currently play in Premiership Rugby, England's top division. In their long history, the Tigers have earned a reputation for continued improvement, with legendary star players such as Dean Richards, Martin Johnson and Neil Back finding their home in the team over the years. 
With loyal fans and an incredible community outreach foundation, the Tigers are a true force to be reckoned with.
The Turmeric Co. are honoured to be associated with Leicester Tigers. While all contact ball sports come with the risk of injury, it is the endlessly popular sport of rugby that is considered the roughest, with common injuries ranging from minor muscular aches and pains to severe ligament damage and broken bones. In these types of sports, where injuries can damage a club's chances of winning leagues, a well-managed nutritional plan is hugely important - that's where The Turmeric Co. come in.
The Turmeric Co. is built on the belief that a healthy respect for the importance of nutrition is vital to all sports, exercise and general health. Founder and CEO, Thomas Hal-Robson Kanu, himself credits turmeric with helping him to nourish his body after a serious sporting injury. 
Commenting on the new partnership between The Turmeric Co. and Leicester Tigers, Thomas said: "I understand first-hand the difference that nutrition can make in enhancing athletic performance and maintaining good health. This partnership is another exciting and progressive step for everyone at The Turmeric Co. I am looking forward to seeing the impact our range can have on not only on the Leicester Tigers team, but also the supporters who will benefit from the product immensely."
The nutritionist for Leicester Tigers expressed a similar sentiment, agreeing that: "With antioxidant properties, the turmeric shots are used by our players regularly to enhance recovery and support a healthy immune system. Turmeric has certainly grown in popularity in recent years, across all sports, and is widely-used."
With an extensive and highly-regarded range of products such as the Original Raw Turmeric Shot, the Raw Turmeric and Ginger Shot and the Raw Turmeric and Beetroot Shot, The Turmeric Co. are experts in all things turmeric root. 
To find out more about the partnership, head over to the Leicester Tigers website at https://www.leicestertigers.com/club/sponsorship/the-turmeric-co. 
Interested in discovering for yourself the benefits of The Turmeric Co.'s turmeric shots? Head to our online shop to find your perfect box and marvel at the incredible affects firsthand.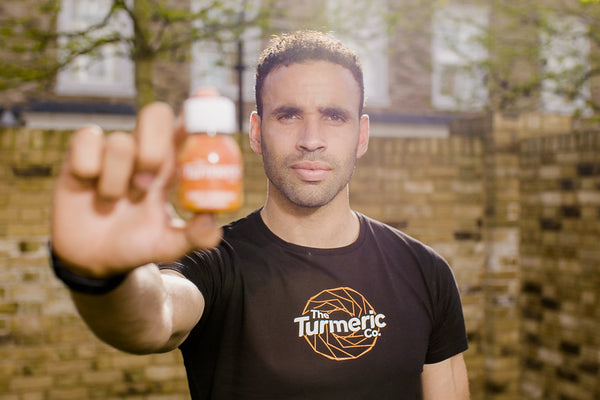 The Hal Robson-Kanu Guide To Fitness & Nutrition
Gain exclusive insight into habits that will make every day a healthy and fulfilling one.