Off the back of their recent carbon neutral status announcement, The Turmeric Co. are pleased to take their sustainability efforts from strength to strength through a partnership with Evri.
With a passion to drive sustainability throughout all aspects of the business, The Turmeric Co. have teamed up with courier and delivery service Evri to ensure that their Recycling Returns initiative – a process that allows customers to return all contents of their shot deliveries to be recycled – is carried out efficiently with the environment in mind.
Contributing to The Turmeric Co.'s circular economy, Evri plays an essential role in ensuring that all shot bottles are transported back to The Turmeric Co.'s HQ to be recycled by the brand efficiently. Ranging from drop off points to courier collection, customers are able to choose from 3 convenient methods of sending their recyclables back.
Resounding with The Turmeric Co.'s eco-friendly ethos, Evri positions sustainability and ethics at the forefront of their operational model. This is reflected in their recent appointment of a Head of Environmental, Social and Governance – an effort designed to steer the delivery company's strategic move towards net-zero carbon emissions by 2035.
Commenting on the partnership, Nancy Hobhouse, Head of Environmental, Social and Governance at Evri said: "We're starting to see a world where climate and carbon is an important thing to reduce, but we also need to reduce the environmental pollution in the air and from the noise that we are generating. As a business, you need to be a 'light touch' to the planet; what I'm excited to see with The Turmeric Co., is that you're setting out to be this right from the start. We are really excited to be a partner on that."
Thomas 'Hal' Robson-Kanu, Founder and CEO of The Turmeric Co. also expressed his excitement to be working closely with Evri: "In order to destroy any hazardous micro bacteria and keep the best nutritional value, our shots go through a final cold-press process called 'high-pressure processing' - which is why we are required to use 100% recyclable plastics to construct our bottles."
"Whilst we are always on the lookout for new processes that would allow for us to make our nutrient-dense shots safe for all to consume, knowing that Evri allows us to provide customers with an easy, convenient way to recycle these plastics gives our community peace of mind! I am looking forward to working closely with Evri on more revolutionary eco-friendly campaigns."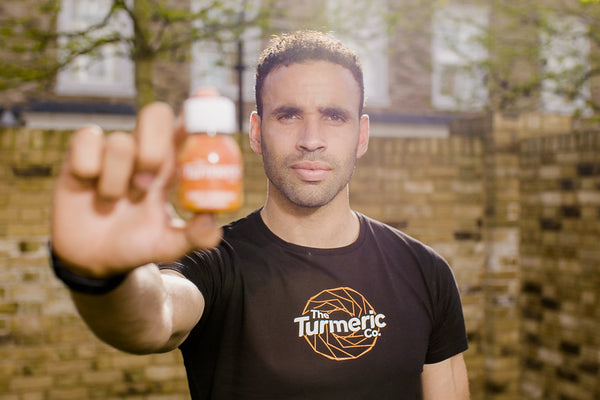 The Hal Robson-Kanu Guide To Fitness & Nutrition
Gain exclusive insight into habits that will make every day a healthy and fulfilling one.