Root vegetables are powerful fruits of the earth. Over the years they've become go-to household staples for centuries.
They thrive and grow underground, using impressively strong roots to absorb nutrients from the soil, whilst sprouting a leafy stem to soak up sunlight.
Many of them will be familiar – potatoes, turnips, and onions to name a few – but there are many other types you may not have considered.
In this article, we'll pick 6 of the most nutritionally beneficial root vegetables that can be thrown into almost any family meal.
Sweet and nutritious – the dream combination.
Sweet potatoes are practically identical to white potatoes when you compare their nutritional value – except for a few noticeable differences.
They contain roughly 50% more fibre than a white potato but are greatly inferior in the potassium department. They also contain over 100% of your recommended daily value of vitamin A, while a white potato only contains just traces.
Sweet potatoes are not a healthier substitution for white potatoes as commonly misconstrued. Depending on your nutritional needs, you might opt for one or the other. Consume both for a healthy, balanced diet.
We're huge fans of this spicy super-root – and we're not shy about it.
Ginger is crammed full of nutrients, it's delightfully delicious, and also contains powerful medicinal properties – you really are missing out if it's still absent from your diet!
Ginger is often used to treat indigestion that is caused by the slow emptying of the stomach, as it's believed to speed up the digestion process.
Ginger also:
And much more!
A vibrant, crunchy delight in any salad – or on its own raw if you don't mind getting some strange looks!
There are numerous types of radish. Their variety is dependent on the seasons that they are grown in. Across variants there is little difference in nutritional content however.
Loaded with vitamins and antioxidants, radish should be one of the first things in your new and improved shopping basket!
Here's a little health secret you may have not discovered yet – this is arrowroot.
You'll usually find this bad boy grounded down and sold as a healthier, naturally gluten-free alternative to flour.
The low digestibility of the resistant starch in arrowroot makes it a good alternative source of carbohydrate. It helps you feel fuller for longer, which encourages weight loss and prevents obesity.
The beauty of fennel is that the bulb, stalks, leaves, and even the seeds are edible – and we encourage you to take full advantage of the entire plant!
Your heart, blood and bones will thank you, as each and every part of the fennel's anatomy contribute to protecting, encouraging and strengthening these life-essential features.
Plus, if you haven't already tried it, roasted fennels make a fanciful feast for the family.
You may have only seen it in a spice jar but in its natural form, ingredients don't get much healthier than this!
With properties proven to provide the body with both anti-inflammatories and anti-oxidants, turmeric also boosts neurological function, lowers risk of heart disease, and so much more.
Turmeric is an incredibly versatile root that can be ground to use as an ingredient in oodles of recipes, from traditional curries to fried eggs.
For a delicious way to up your turmeric consumption, check out our range of turmeric shots. If you've been inspired by roots, grab yourself a ginger or beetroot infused shot for double the power!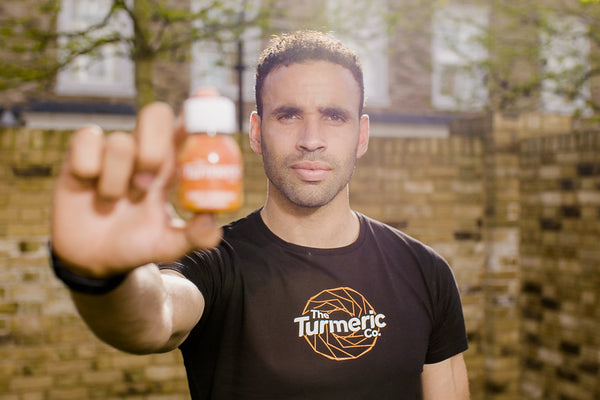 The Hal Robson-Kanu Guide To Fitness & Nutrition
Gain exclusive insight into habits that will make every day a healthy and fulfilling one.