Here at The Turmeric Co., we are delighted to announce that we have somersaulted into a partnership with British Gymnastics as their official nutrition partner. Through this partnership, their athletes will have access to our turmeric shots to support their intense training schedules.
British Gymnastics is the UK Governing Body for gymnastics, helping to support and inspire those at all levels, as well as providing opportunities for those taking part in the sport at all ages.
Some of the disciplines included in British Gymnastics are:
Acrobatic gymnastics
Aerobic gymnastics
Disability gymnastics
Rhythmic gymnastics
Trampoline
Tumbling
Men's artistic gymnastics
Women's artistic gymnastics
An exhilarating sport to watch, gymnastics has something to offer everyone at any age. Gymnasts possess an incredible amount of balance, power, coordination and strength, allowing them to carry out impressive, complex manoeuvres.
Although it may look like an elegant sport, gymnastics has one of the highest injury rates, with nearly 100,000 gymnasts suffering from injuries such as wrist fractures and ligament tears every year. While it may not always be possible to avoid injury, it is important for athletes to take preventative measures to reduce the risk, including:
Adequate hydration
Sufficient recovery
Stretching before and after training
Correct attire
An effective nutrition plan
For the British Gymnastic athletes, nutrition is just as important as a rigorous training schedule – especially in the lead up to major championships. An effective nutrition plan helps to keep the athletes strong, fit and decrease the chance of injury as much as possible.
Founder of The Turmeric Co., Thomas Hal-Robson Kanu supplemented his own diet with turmeric to aid his recovery from a serious sporting injury, so is delighted to partner with other athletes to allow them to do the same. Commenting on the new partnership with British Gymnastics, Thomas said: "It is a pleasure to have partnered with British Gymnastics and we are delighted to be supplying the British Gymnastics team with our range to support their health and wellbeing through natural nutrition, hopefully long into the future.'
British Gymnastics Senior Commercial & Business Development Manager, Nick Horswell added: "Nutrition is such an important area of focus for our athletes, so we're really excited to partner with The Turmeric Co., who will provide us with the products and share their expertise in this field."
Our range of turmeric shots can be used by the British Gymnastics athletes to supplement their diets - aiding recovery, supporting their immune systems and helping them to stay as healthy as possible in the lead up to high-profile competitions.
We are delighted to be associated with British Gymnastics and are extremely excited for our future with them.
Whether you're an elite athlete, or on your personal wellness journey - our turmeric shots are the perfect addition to any active lifestyle.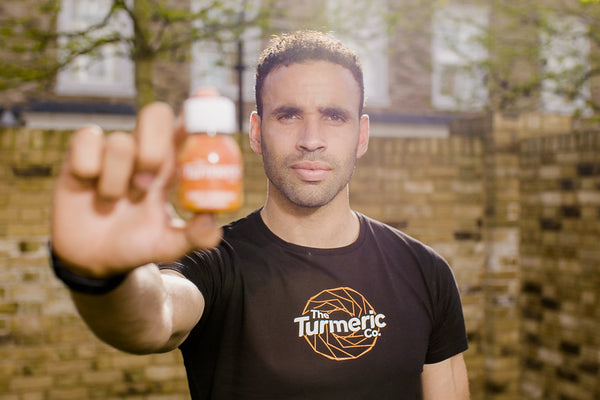 The Hal Robson-Kanu Guide To Fitness & Nutrition
Gain exclusive insight into habits that will make every day a healthy and fulfilling one.