Curious about incorporating turmeric into your lifestyle? This is the blog for you!
With a long history of use in Indian and Chinese cuisine, the warm, earthy flavours of turmeric are often used to add colour and depth to both savoury and sweet dishes alike.
Today, it is often used in supplements and teas as an easy way to provide a nutrient boost - turmeric is even used as a natural food dye!
But does turmeric offer any health benefits? Whether you're physically active or just want to see if turmeric is for you, this root could be just the thing to shake up your routine. If you are looking for ways to add this incredible root into your lifestyle (and trust us, you're going to want to!), here are a few ideas to get you started.  
1. Turmeric beverages 
One of the simplest ways to enjoy turmeric is by adding it to your morning cup of coffee or tea. Just a pinch of the root can give a nourishing, flavoursome kick to your favourite beverage.  
Adding high-quality turmeric root to your brews may also provide you with an extra dose of vitamin C and vitamin B6, which respectively help with: 
Protecting cells and keeping them healthy 
Contributing healthy skin, blood vessels, bones and cartilage 
Supporting with wound healing 
Better circulation 
Not sure if an English Breakfast brew laced with turmeric is for you? Try a delicious Creamy Turmeric Latte as a wholesome way to start your day - in the hotter weather, pour it over ice for the perfect nutritious refreshment!
Turmeric tea
Another easy-to-make turmeric beverage is the classic turmeric tea! The process is straight forward and can be whipped up in seconds:
Boil 8-12 oz of water and pour it into your favourite mug.
Tip your raw turmeric shot into your boiled water and stir until combined.
Add a splash of dairy-free milk to thicken the consistency - coconut milk works best! 
Dust off with some cinnamon for an extra kick.
 2. Cooking with turmeric
An exciting way to experiment with turmeric is to get creative in the kitchen! Although it may be easy to invest in turmeric-based dietary supplementations, the effects of turmeric may be more obvious when introduced through food.
Try making a healthy turmeric-based soup by simmering a raw turmeric shot with vegetable broth, ginger, onions, and garlic. Don't forget to season with salt and pepper to taste! You can also add some coconut milk for creaminess and extra flavour.  
For lovers of Asian cuisine, a Miso Tofu and Ginger Ramen could be just the dish to ease you into cooking with turmeric extracts. But remember – when using turmeric, always make sure to be using a product of high quality.
Many turmeric powders that you can buy from the supermarket lack nutritional value, so is best practice to use a product that preserves the vitamins and minerals that naturally occur in raw turmeric root. This could be by using fresh root itself, but to take your dish to the next level nutritionally, liquid turmeric that has a purposefully selected range of quality ingredients is the easiest, quickest and most beneficial way of achieving this. Compared to powders and capsules, there are an array of turmeric shot benefits – many formulas contain ingredients such as black pepper, which enhances the absorption rate of curcumin (the active ingredient in turmeric) by up to 2000%!
Oh – and for a sweet treat, try adding turmeric to a pancake or waffle batter before cooking! You won't regret it.
 3. Turmeric in skincare
Turmeric has been used for centuries in food for its potent taste and purported nutritional value. But are you aware of the suggested turmeric skincare benefits?
Turmeric contains curcumin, a compound with antibacterial, anti-microbial and anti-sceptic properties. This makes it the perfect ingredient for skincare products that are designed to soothe and protect the skin.  
Pollution, sun damage and other external factors stimulate the creation of free radicals, which can lead to the development of dangerous health issues. However, turmeric is a strong source of antioxidants which help to combat these damaging molecules, ultimately calming the potential effects of environmental damage. 
Studies have even shown that the topical application of turmeric contributes to the reduction of redness and may even out skin tone, which is why turmeric is an ideal ingredient to incorporate into your skincare routine.
So, why not try a DIY turmeric face mask? Here are some of our favourite turmeric skincare mask combinations that you can make from the comfort of your own kitchen:
·      For antibacterial concerns, try turmeric with warm water and honey
·      For extra nourishment, give turmeric, yoghurt and lemon juice a go
·      For a natural soother, mix turmeric with aloe vera gel
Simply grab a bowl and spoon and mix up your selected ingredients! Whatever combination you choose, make sure to leave your turmeric mask on for around 10 minutes before rinsing thoroughly with warm water.
But are there any risks when using turmeric in skincare? As noted by the National Center for Complementary and Integrative Health, turmeric is acknowledged as a safe product when used orally or topically. 
There are so many ways to use turmeric to get some extra nourishment in your lifestyle. From diet to skincare, the possibilities are endless! But remember - consistency is always key. As long as you're incorporating turmeric into your routine regularly, we're certain that it'll be your new go-to.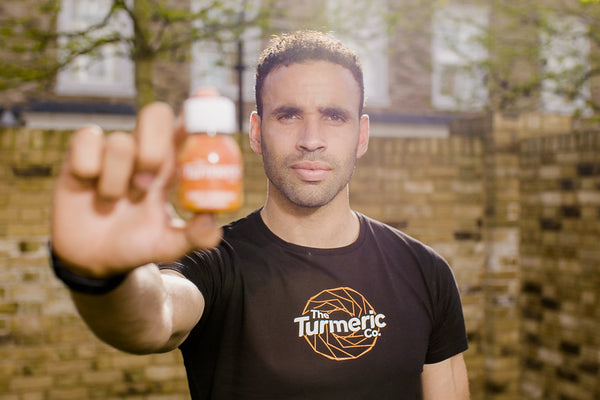 The Hal Robson-Kanu Guide To Fitness & Nutrition
Gain exclusive insight into habits that will make every day a healthy and fulfilling one.