It's a question that we get asked all the time: 'what is the best turmeric supplement on the market in the UK?'
It's also a question that we constantly ask ourselves, as we continue to perfect our recipe to ensure that our turmeric shots remain one of the very best turmeric supplements available in the UK. We've spent decades researching the most effective way to take a supplement as well as refining our recipe to ensure it's packed with as much raw turmeric root as possible. In this blog, we explain exactly what it is that makes our turmeric supplement the best.
1. Liquid Turmeric Supplements are More Effective Than Powders and Tablets
It's recommended when taking supplements that the vitamins and minerals within those supplements can be absorbed by the body within 30 minutes. In most cases (particularly with larger multivitamin tablets), it may take longer than 30-minutes for the solid tablet to break down, which means your body may miss the opportunity to absorb the benefits.
 Because of this time lag caused by the breaking down process, traditional pills have an absorption rate of between only 3 to 20%, while liquid vitamins have an absorption rate of 98%.
 That's exactly why our turmeric supplements are taken in liquid shot form. We specifically designed them in this way because liquids are proven to be absorbed more easily and more effectively by the body. Other forms like curcumin tablets and turmeric capsules may resemble what you've come to know as supplements, but pill-form isn't always the best option. 
(Psst, here's a quick cheat sheet if you're wondering what curcumin is. Thank us later!)
Each one of our 60ml shots are packed with 35 grams of fresh raw turmeric root, within a blend of carefully selected fresh ingredients, rich in vitamins and nutrients - and its liquid form means that the benefits of each and every ingredient can be reaped. Say goodbye to turmeric extract tablets because, in our experience, the shot is where it's at.
2. Improved bioavailability 
If you want to increase your turmeric intake (as you have read about the many benefits of turmeric and curcumin), then it's not as simple as adding some turmeric powder into your diet, or even taking a turmeric tablet as part of your daily routine.
It may sound hard to believe, but eating 35 grams of turmeric powder is not equivalent to drinking one of our shots (containing 35 grams of fresh raw turmeric root with curcumin). This is because not all forms of turmeric are made equally bioavailable. We've taken a look at what the best way to take turmeric is so you can follow our advice.
Bioavailability can be drawn in correspondence to what makes the best curcumin supplement, arguably, because the efficiency of your chosen supplement will influence how it performs for you.
Exactly how bioavailable your turmeric supplement is does depend on all sorts of factors, including how it's extracted, stored and more.
Here at The Turmeric Co., we have worked closely with some of the UK's leading nutritionists to perfect our powerful blend. We only use fresh and raw turmeric root that has been delivered in what we know to be a bioavailable form.
This is another reason why turmeric extract tablets might not be performing for you – because their bioavailability isn't up to scratch. Instead, a liquid turmeric shot might be the most effective curcumin supplement for you.
We also combine our bioavailable turmeric with raw piperine (black pepper extract), which can further enhance the bioavailability of turmeric and it's powerhouse component curcumin by up to 2000% to further encourage liquid turmeric absorption.
3. Award-winning taste
No matter how disciplined you are when it comes to taking supplements, if it's not a pleasant experience then you're less likely to make them part of your routine. Even the best curcumin supplement in the world wouldn't have many loyal fans if it didn't taste good!
As well as prioritising the quality and effectiveness of our liquid turmeric supplements during the development of our unique recipe, we also focussed on delivering a great-tasting shot.
We currently offer our liquid turmeric shots in three delicious flavours:
Although all of our flavour combinations are popular with our customers, our raw turmeric and ginger shot deserves a special mention, having won a Great Taste Award 2020. 
We don't want to say that we have the best turmeric supplement… We just know we've done all the research into the science behind it and created turmeric supplements that taste great and that our customers love. Don't just take our word for it though, try them yourself!
If you're looking for ways to increase your intake of turmeric on a regular basis, then forget turmeric capsules, tablets, and pills. Liquid turmeric shots are by far the most effective way to take your turmeric supplements - particularly those (like ours!) that contain raw piperine to support the bioavailability of the turmeric. Shop our full range of turmeric supplements today and feel the difference for yourself.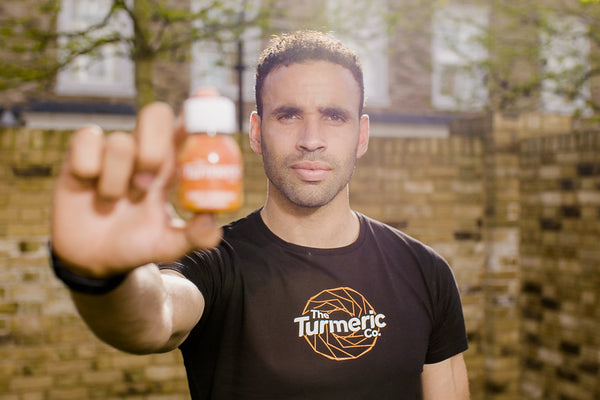 The Hal Robson-Kanu Guide To Fitness & Nutrition
Gain exclusive insight into habits that will make every day a healthy and fulfilling one.