Have you left your Christmas shopping to the last minute again?! Christmas is just around the corner, so you're going to need all the help you can get!
For that special someone who loves feeling good, there are plenty of helpful gifts that could take their wellness routine to another level. From healthy hampers to workout accessories, we've made a list that has a little something for everyone. Take a quick look at these gift-worthy products that are tailor-made for those focused on their physical and mental health:
Free from refined sugars, this hand-picked collection of plant-based goodies is perfect for the health-conscious foodie!
Featuring ethically sourced chocolate, snacks and green tea, this comforting hamper is sure to make the colder winter evenings feel a little bit warmer. And better yet - for each box sold, 8 trees are planted! You'll even receive a tree planting certificate to acknowledge that your trees has been planted.
Use code TTC for 20% off your order.
Suspension training is a versatile way to workout, no matter your fitness level.
Whether you're trying to become more flexible, get lean, or simply move your body more, the TRX MOVE Suspension Trainer™ has adjustable straps for all moves and heights.
As TRX's lightest weight fitness solution, this suspension trainer can be set up in seconds and comes with everything you need to workout any time, any place. 
Use code TRX20TURMERICCO to get 20% off sitewide at www.trxtraining.co.uk.
Founded by Stef Williams, WeGlow is a fitness app designed to build a positive relationship with health and fitness through fun workout programmes and education.
Urging users to focus on how they feel and not what they look like, the app offers nutritional advice and detailed demonstrations of workouts - you won't have to think twice about planning your wellness journey, the app does it all for you! 


If you know someone who is looking to create sustainable habits for life but has no idea where to start, gift them with an app subscription. First and foremost, it encourages helps to prioritise physical health and well-being. With the convenience of a mobile app, they can easily track their workouts, set and achieve fitness goals, and access a variety of exercises and workouts from the comfort of their own home.  

Use code weglow20 for 20% off.
A reusable water bottle or coffee mug can be a practical and eco-friendly gift for anyone on your Christmas gift list.
This bottle by Ocean Bottle does exactly what it says on the tin – it keeps your cool drinks cool and your warm drinks warm. Ice, soup, coffee, and smoothies are all good, thanks to its double lid that lets you sip, fill, pour and clean with joy!  

Each purchase also pays for 1000 ocean-bound plastic bottles to be collected before they reach the ocean, so you can buy this with a clean conscious. You can also consider adding a personalised touch with your loved ones' initials or a fun design!
5. The Mixed Shot Box by The Turmeric Co., starting at £1.99 per shot
Do you have a friend who is always getting ill? Or a friend who LOVES working out, but hates muscle soreness? Or maybe even a friend who would benefit from a natural, tasty kick to start the day?

With a functional range of raw turmeric shots tailored to a variety of wellness goals, The Turmeric Co. offer nutritional support for all walks of life. Founded to aid premier league footballer Thomas 'Hal' Robson-Kanu's recovery, each bottle contains purposefully-selected ingredients and no added sugars - so expect a surge of antioxidants and nutrients that are sure to make your loved ones feel more nourished!

The Mixed Shot Box offers a delightful variation of blends as an introduction to The Turmeric Co.'s award-winning range. Each order comes in fully-recyclable insulated packaging, and is delivered in an eye-catching orange box that makes Christmas wrapping a breeze!
Keen to learn more about what raw turmeric root can do for you? Join The Turmeric Co.'s exclusive Facebook Club and connect directly with 100s of customers.
Rest assured - no matter who you're shopping for, there's a healthy gift out there that will be perfect for them.

Happy shopping and happy holidays!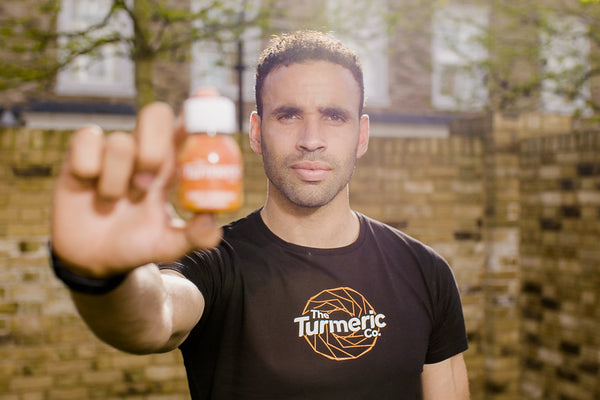 The Hal Robson-Kanu Guide To Fitness & Nutrition
Gain exclusive insight into habits that will make every day a healthy and fulfilling one.