How Long Does it Take Turmeric Take to Work?
Whether you're hoping to improve your skin or reduce inflammation – there are a number of health benefits that turmeric is said to possess.

Whether you've just bought your first turmeric shot box, or you're thinking about getting started on your turmeric journey, you might be wondering how long it takes for turmeric to work. So, how long does it take for turmeric to work and when will you start to notice the benefits? Luckily for you, we've got all the answers.
When Will I Start to Notice the Benefits of Turmeric?
For those looking for a quick fix like a caffeine boost, unfortunately that's not what turmeric can provide – it's a bit more of a slow burner. When it comes to taking turmeric, it takes a little while for the curcumin to build up in your system. However, once you've gone through a loading period, that's when you will start to notice some of the proposed benefits. 
So, how long does it take turmeric to work?

Depending on your body mass and condition, it will usually take around 4-8 weeks for you to start noticing improvements to your body and mind.

Whether you're incorporating raw ground turmeric into your meals or taking it as a tasty and convenient daily shot, it's important to make sure you take it consistently in order to reap all the benefits.

What is the Most Effective Way to Take Turmeric?
So, you know about the benefits of turmeric and you know how long it usually takes to notice them, but what is the most effective way to take turmeric to maximise the results?

Although turmeric might make a tasty addition to a curry, this isn't the most bioavailable form, meaning it's unlikely that you'll notice the benefits of turmeric by simply incorporating it into your meals.
Additionally, there's a secret ingredient that helps to unlock the full potential of turmeric – black pepper. That's because black pepper contains a compound called Piperine, which can increase the absorption of turmeric by up to a whopping 2000%.
However, the most effective way to take turmeric is as an ingredient in a drink, such as one of our raw turmeric shots, in order to maximise absorption. When taken as a tablet or in food form, the body has to break down the solids before the active ingredients can be utilised by the body, meaning it takes longer for the compounds to be absorbed and less may be available at that stage of digestion.
A raw turmeric shot is a convenient and effective way to get your turmeric fix each day. The combination of raw turmeric root, black pepper and flax oil makes for a potent shot that your body will thank you for. Simply enjoy one each day for 4-8 weeks to really start noticing the benefits. 
How Long Does Turmeric Stay in Your System?
How long turmeric stays in your system for largely depends on your body composition, activity levels and general health. Studies have suggested that traces of curcumin could be detected in the brain up to 96 hours after consumption when taken at the correct dosage.

However, we recommend taking a dose of turmeric every day in order to maintain the levels of curcumin within the body.

If you're eagerly awaiting a delivery of a delicious, nutritious box of turmeric shots, then you might start noticing the benefits in as little as 4-8 weeks. So what are you waiting for? Get started on your turmeric journey today with The Turmeric Co.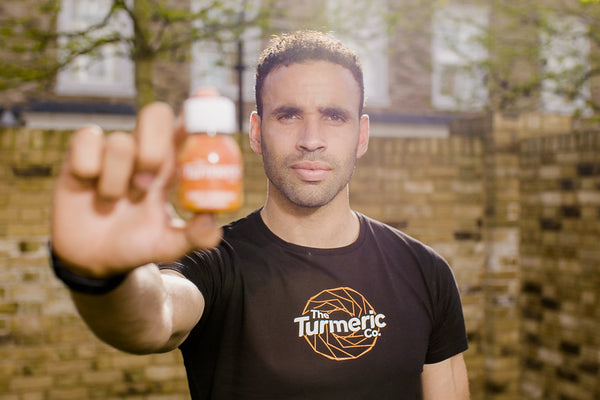 The Hal Robson-Kanu Guide To Fitness & Nutrition
Gain exclusive insight into habits that will make every day a healthy and fulfilling one.