Turmeric. From a punchy cooking ingredient to a popular alternative medicine, its benefits are endless. 
However, in this post, we're going to cover turmeric from an angle we're willing to bet you haven't tried before...
Say hello to the Turmeric Face Mask!
If you're a fan of turmeric but are yet to experience the range of benefits from applying it directly to your skin, you're truly missing out! Read on to discover everything you need to know about making your own soothing face mask, as well as the various benefits you can expect to see.
Turmeric face masks – what are they good for? 
A whole host of things, as it turns out! The use of turmeric to combat medical conditions dates back thousands of years. Turmeric face masks have been used to treat:
Acne

Inflammation

Bacterial infections

Irritation

Signs of ageing 
We told you there was more to turmeric than meets the eye!
Turmeric face mask ingredients
For acne, inflammation and infections
What you'll need: 
Turmeric, warm water, honey.
For signs of ageing 
What you'll need: 
Turmeric, yoghurt, lemon juice. 
For irritation
What you'll need: 
Turmeric, aloe vera gel, warm water. 

How to make your turmeric face mask
Here comes the best bit – creating your turmeric face mask and unleashing its wonderful range of benefits! It couldn't be easier, so here goes.
You can create your turmeric face mask in 3 easy steps: 
Combine the above ingredients in a bowl.
There are no specific quantities – measuring them out by eye is fine.
Add in your choice of thickener (optional)
Adding in a thickener will help give your face mask some hold. This could be oats, clay or even flour.
Leave to stand for 10 minutes
Give your ingredients the chance to combine fully for them to work their magic!
That's it – you're ready to go!
Run a bath, relax, apply your turmeric face mask and watch as your woes are massaged away!
Avoid leaving it on overnight – turmeric can temporarily stain your face if you leave it on for too long! For the very best results, leave on for at least 15 minutes.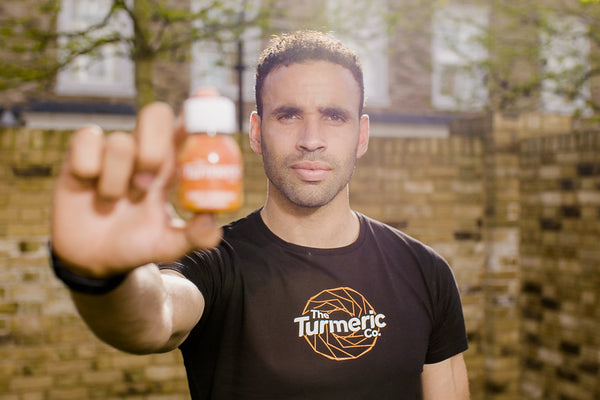 The Hal Robson-Kanu Guide To Fitness & Nutrition
Gain exclusive insight into habits that will make every day a healthy and fulfilling one.