With the cold weather firmly settled in, it's that time of year again - cold and flu season.
While there's no fool proof way to avoid getting sick, there are many types of immunity boosting changes you can implement to support your immune system, and keep yourself feeling your best!

Without further ado, here are our top 5 tips for boosting your immunity:
1. Eat a nutritious diet
A well-balanced diet is essential for maintaining a strong immune system. But what are the best immunity boosting foods?

Your immune system will flourish if you eat foods rich in folate, iron and zinc alongside vitamin A, vitamin B12, vitamin C and vitamin D. Although vitamin supplements may be an easy way to give your body some extra nourishment, eating a varied diet is the best way for your body to absorb essential nutrients to help boost the immune system.



So, next time you're planning your meals and want to make your immune system work better, try adding the following ingredients to your shopping list:


Blueberries – Often dubbed a 'superfood' due to their high vitamin C, vitamin A, potassium and manganese content, blueberries are rich in antioxidants that can reduce cell damage and boost the immune system.
Citrus fruits – Load up on the limes, oranges and lemons! Almost all citrus fruits are rich in vitamin C. Vitamin C boosts immunity by protecting cells and also aids wound healing whilst maintaining healthy skin, blood vessels and bones.
Broccoli – This is one of the most nutritious vegetables you could put on your plate! Bursting with vitamins A, C and E, broccoli is also high in fibre to keep your digestive system healthy.
Spinach – Rich in antioxidants and vitamin C, spinach is also a fantastic source of beta carotene, which may contribute to keeping infections at bay. Top tip: make sure to cook spinach as little as possible to retain essential nutrients!
Ginger - Bursting with antioxidants (which are compounds that prevent damage to your DNA!), ginger also has antibacterial properties, making it ideal to prevent diseases and sickness.
Now you know some of our favourite immunity boosting foods, which will you be trying? Add some ginger into your diet with some warming Gingered Apple Oats  or spice up dinner time with a nourishing Roast Broccoli Chickpea Sweet Potato Bake. 
2. Catch those Zzzz's!
If you're looking to boost your immunity quickly, make sure you're getting around 7-8 hours every night!


When you sleep, your immune system releases small proteins called cytokines, which are essential in monitoring the activity of other immune system and blood cells. As a line of defence, some cytokines may need to increase when you have an infection or inflammation as an immune response, and sleep deprivation may prevent this process from happening.

In short, if you're fed up of getting the sniffles and want to boost your immunity, it's time to prioritise sleep!
3. Exercise regularly
Does exercise help your immune system? It sure does!

A recent study found that moderate exercise stimulates the immune system by encouraging immune cells to circulate around the body, which prepares your body to detect potential infections quicker! 


But getting the balance is essential, as too much exercise can have the reverse effect and weaken your immune system. Try regular 30–45-minute workout sessions to keep your immune system strong.
4. Reduce stress
Stress can have a negative impact on immunity and may lead to the development of disease. Although it can be hard to sometimes identify stress tiggers, reducing stress is vital for good health.

Breath work can be incredibly effective in reducing stress, and can be done at anytime, anywhere! Taking deep breaths increases the amount of oxygen supplied to your brain and encourages a feeling of calmness throughout the body by triggering the parasympathetic nervous system.

Looking for something a little more testing? Activities such as yoga, painting, and walking can promote relaxation and keep stress hormones to a minimum.
5. Limit alcohol
Alcohol can weaken the immune system, so it's best to limit alcohol consumption or even abstain completely if you can!

Although the festive season is looming, if you do drink alcohol, do so in moderation - no more than one drink per day for women and two drinks per day for men.

So next time you're looking for a winter warmer, swap the mulled wine for an immune system boosting Creamy Turmeric Latte. Your body will thank you!

From suggesting the best foods to boost the immune system to exploring ways to improve immunity through exercise, these small and simple changes can have a big impact on boosting your immune system.

Treating your body with respect will keep you feeling your best throughout these colder months, so you can make the most of the festive season!

If you're looking for a quick and convenient way to boost your immunity, try our award-winning Raw Turmeric Vitamin C & D3 shot. Made from raw, fresh ingredients, you only need 1 shot a day to support your immune system with potent doses of vitamin C, vitamin D3 and raw turmeric root.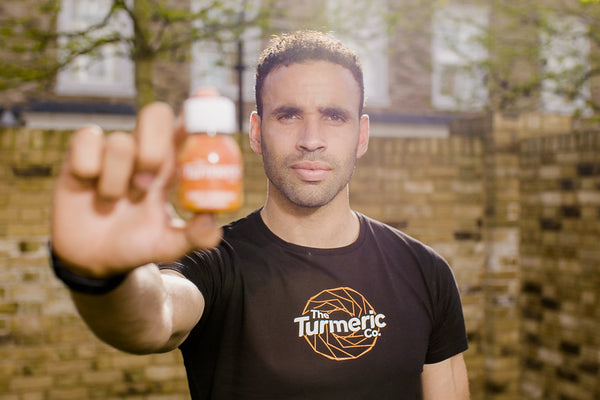 The Hal Robson-Kanu Guide To Fitness & Nutrition
Gain exclusive insight into habits that will make every day a healthy and fulfilling one.