Consuming turmeric – the oriental spice often used in Ayurvedic medicine - accelerates post-match recovery in professional footballers, a study has shown.
In collaboration with The Turmeric Co., researchers at Nottingham Trent University conducted a groundbreaking clinical trial that explored the benefits of turmeric supplementation in the recovery of elite athletes.

The results of this study have been nothing short of remarkable, revealing the potential of turmeric as a powerful natural remedy.
The trial
Players from EFL Championship side Rotherham United Football Club were split into two groups – those who drank the turmeric shot and those who did not – with leg and whole-body soreness and markers of inflammation in the blood measured at various stages for up to three days post-match.

The researchers at Nottingham Trent University found that drinking The Turmeric Co.'s 60ml turmeric shots twice-a-day allowed players to return to their pre-game fitness faster than those who did not; the turmeric group returned to baseline levels of subjective soreness and blood markers of inflammation quicker than the group that did not consume turmeric.

This process appears to be aided by a reduction in pro-inflammatory proteins in the blood, known as cytokines, which increase in response to a stress, such as intense exercise.

The Nottingham researchers are the first to demonstrate that a curcumin-containing supplement can reduce pro-inflammatory cytokine concentrations in the blood and muscle soreness in elite professional footballers.


"Our findings suggest that the turmeric supplement accelerated players' recovery after matches, allowing them to return to their optimum fitness level more quickly," said lead researcher Dr Dave Clayton from Nottingham Trent University's School of Science and Technology.

He said: "Elite footballers have a physically demanding schedule, often playing up to three matches in a 7-day period. This causes a large degree of inflammation and pain after games. If this is not alleviated, previous research has shown this can result in poorer performance in their next match.

"Our study suggests that a turmeric supplement, consumed as an easy to drink 60mL shot twice a day, can reduce the degree of inflammatory and muscle soreness that elite players experience after a match."

Fellow researcher, Dr Ian Varley, added: "There are various products that are marketed to aid recovery from strenuous exercise. This pilot study provides some mechanistic insight that turmeric maybe a convenient and viable method to boost recovery."

Speaking on the importance of clinical research, Thomas 'Hal' Robson-Kanu, founder and CEO of The Turmeric Co., expressed: "Our shots have been a staple for many people across the UK who utilise our formula to aid their wellness, but sceptics still wonder what turmeric is actually good for. We are pleased to have worked alongside Nottingham Trent to highlight some of the many benefits of turmeric."

Inflammation is a natural immune response that plays a vital role in healing and protecting the body. However, prolonged inflammation can be detrimental to an athlete's performance, hindering recovery and increasing the risk of injury.

Therefore, finding effective ways to manage and reduce inflammation is of utmost importance for athletes.

The study is published in the journal Frontiers in Nutrition and is supported by the UK Sports Institute.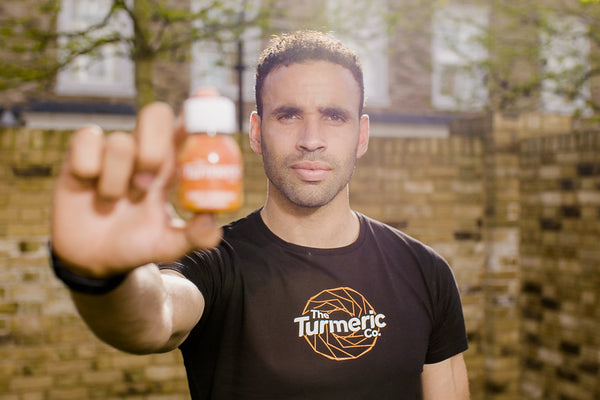 The Hal Robson-Kanu Guide To Fitness & Nutrition
Gain exclusive insight into habits that will make every day a healthy and fulfilling one.