The recognition for The Turmeric Co.'s
Raw Turmeric Vitamin C & D3 shot
states that the Royal Osteoporosis Society supports the product's bone health claims. Approval for the
Bone Health Accreditation Scheme
is only given to products or services that can demonstrate benefits to bone health according to strict nutritional and scientific criteria set out by established EU regulations.
The Turmeric Co., founded by professional footballer Thomas 'Hal' Robson-Kanu, provides a range of functional flavours including Raw Turmeric Original, Raw Turmeric & Ginger, Raw Turmeric & Beetroot, and Raw Turmeric Vitamin C & D3. Each formula is offered in a fully-recyclable 60ml bottle for easy and convenient daily consumption.
Designed to support immunity and wellbeing, The Turmeric Co.'s Raw Turmeric Vitamin C & D3 shot is a world's first, all-in-one formula crafted to support immunity, fight fatigue, repair muscles, support brain functionality and help with the maintenance of healthy bones. Vitamin D is a fat-soluble vitamin, meaning a fat source is required in order for it to be effectively absorbed by the body. As with the liposomal vitamin C, the liposomal vitamin D in The Turmeric Co.'s shots is encased in tiny spheres of fat, which act as carriers to increase bioavailability within the body.
Thomas 'Hal' Robson-Kanu, Founder and CEO at The Turmeric Co. said:
"To receive recognition and accreditation from the Royal Osteoporosis Society is one of the greatest honours and testaments for our Raw Turmeric Vitamin C & D3 shot.
"The ROS states that consuming enough vitamin D is a vital element in bone health, and with over 3.5 million people in the UK living with osteoporosis, products like ours have a key role to play in reducing that figure and providing better bone strength across the nation."
The Royal Osteoporosis Society is the UK's only national charity dedicated to bone health and osteoporosis. It works to improve the bone health of the nation and supports everyone with osteoporosis to live well through its support services and advice.
Henry Mace, Head of Partnerships and Philanthropy at The Royal Osteoporosis Society added:
"We're thrilled to have Thomas and the team at The Turmeric Co. join the Bone Health Accreditation Scheme which aims to help people to make good choices for their bones when it comes to diet and lifestyle. Whenever consumers see the 'Bone Health Approved' logo on a product or service, they can feel confident that the charity's experts agree that the product is good for bones."
The announcement of The Turmeric Co.'s accreditation is announced at the start of the Royal Osteoporosis Society's ambitious UK-wide campaign to raise public awareness of the risk of fractures due to poor bone health in the over 50s, encouraging people to take their
osteoporosis risk checker.
The Turmeric Co. is the UK's leading producer of naturally produced turmeric shots, which are also used by a number of elite athletes to enhance their recovery and holistic health. The Turmeric Co. has spent over a decade perfecting its range of turmeric shots to optimise the health benefits they deliver.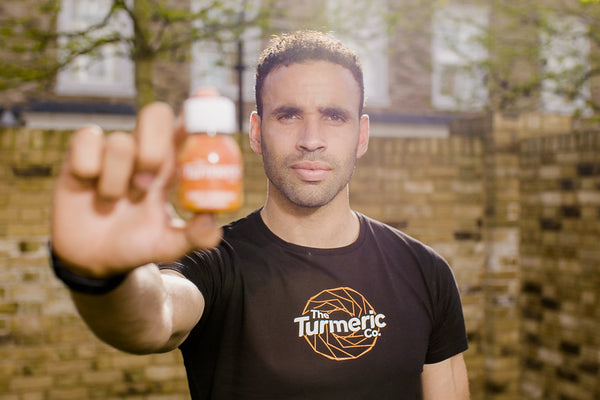 The Hal Robson-Kanu Guide To Fitness & Nutrition
Gain exclusive insight into habits that will make every day a healthy and fulfilling one.