Talking Food, Sport & Sustainability with Issa Batrane
Here at The Turmeric Co., we're incredibly passionate about sustainability and reducing our carbon footprint. Like all businesses, our actions can have an impact on the planet - but we can choose whether or not that impact is positive or negative.
Thousands of inspirational athletes use our shots to help them to achieve their goals, so we want to ensure we're taking steps to help reduce the use of single-use plastics in sport with the help of our ambassadors like beach volleyball 'Athlete for Planet', Issa Batrane. As our sustainability ambassador, Issa is keen on living more sustainably and is an active supporter of the Big Plastic Pledge – a mission to eradicate single-use plastic in sport.
So we caught up with Issa, talking about his sporting career, training, lifestyle and – of course – his favourite turmeric shot.
Beach volleyball seems like an unusual sport to get into given the temperamental weather in the UK - how did you get into the sport?
I one hundred percent agree that the weather in the UK doesn't exactly call out for beach volleyball! But for me, I started playing indoor volleyball at a full-time volleyball academy in Bournemouth when I was 16/17 and I was naturally introduced to beach volleyball during the summer from living on the coast.
It was there when I won the Junior British Beach Volleyball Championships, so the Junior Beach Volleyball England coaches wanted me to play on sand more and I've never looked back!
What has been your biggest life lesson from playing volleyball?
Beach volleyball has definitely taught me the importance of being able to remain tough through the difficult times and stay consistent with good habits in order to be successful.
Like life, your journey will have ups and downs, but it's all about staying consistent with good, positive habits in order to keep growing.
What has been your proudest achievement in beach volleyball so far?
Winning my first Senior British Championships title has to be something I am still proudest of, as it was the first mountain I had to climb in my career.
Has your training schedule changed whilst preparing for the Olympics?
We are still preparing for our continental Olympic qualification event, which will take place in Turkey. It's the second round out of three, so we've still got some way to go. Training has looked very different with the ongoing pandemic, with breaks in training and limited travel for training camps and competition.
That being said, we feel as prepared as we can be and even during the peaks of the pandemic, we were fortunate enough to have access to gyms and sand courts in London so we could continue training.
When you're training hard, how do you avoid injuries and what does your diet look like?
A big part of trying to limit injuries comes from working with our Strength and Conditioning Coach, Dan Boer on building our strength base and tendons. On top of that, I do everything I can to remain healthy, including stretching, adequate recovery, sleep and good nutrition, which has kept me in a good spot.
Taking my daily Turmeric Shot has had a big impact on my health, as has my balanced diet. I naturally tend to stay away from less nutrient-dense foods and avoid saturated and trans fats where possible. I also try to stick to a more plant-based diet for environmental reasons, ensuring it's as balanced as possible with an emphasis on protein to aid my muscle growth and repair, as well as a good balance of carbs to keep my energy levels high for the demands of volleyball.
It's great to see you using your platform to support the Big Plastic Pledge – a mission to eradicate single-use plastic in sport. How do you ensure you're as sustainable as possible?
For me personally, I try my best to always have a reusable water bottle with me and I don't accept plastics in multiple forms, such as plastic water bottles or bags. When I go food shopping, I always take my own bags and containers for loose fruit and vegetables to limit my plastic use and this helps with storage too!
On a larger scale, I also contribute towards carbon offsetting schemes each month, in order to help offset the CO2 emissions I create through travelling for volleyball. Additionally, I'm conscious about the products I use and the companies I support, as I feel like it's the right thing to do to support companies who have a genuine interest in helping the environment.
What does sustainability mean to you?
To me, sustainability is something that should be a way of life. A way in which you should want to consume better, reuse more and just extend the life of everyday products to get out of the habit of throwing things away after one or two uses. What we consume should not vastly exceed what we contribute.
Would you say there has been a shift towards sustainability in sport in recent years?
Most definitely! The sport that I have been most impressed with has been Formula 1. They have been trying to make positive changes to a sport that has a huge carbon footprint, as the sport is notorious for guzzling gas and travelling all over the world with so much equipment. However, with the creation of Formula E, a powerhouse sport is looking to move to net-zero carbon emissions by 2030, which has really shown that if a little more thought was put into it, this could be possible across all sports.
It's so encouraging to see the positive changes being made across a number of sports, as it is now starting to come to the attention of governing bodies as the upcoming generation have a real interest in helping our planet.
When you're not playing volleyball, we heard you enjoy cooking – what is your most impressive dish?
I'm not sure if this is impressive, but I love making a Thai curry when I have the chance, mixing it up with tofu or a range of different additions.
Finally, we'd like to know which The Turmeric Co. shot is your go-to and why?
Most definitely the Raw Turmeric & Beetroot Shot! I've always been a fan of beets because they're said to increase physical sporting performance, but I also just really enjoy the flavour of it.
If you'd like to follow Issa on his exciting journey to the Olympics and creating a more sustainable future in sport, you can find him on Instagram and Twitter.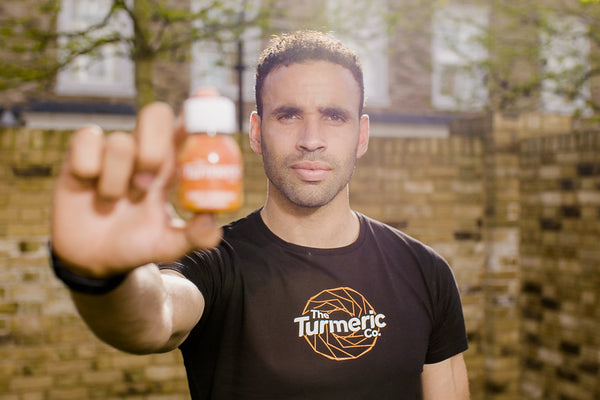 The Hal Robson-Kanu Guide To Fitness & Nutrition
Gain exclusive insight into habits that will make every day a healthy and fulfilling one.