This week, caught up with circuit-training extraordinaire Caroline Idiens, who has been enjoying the nutritional benefits of The Turmeric Co.'s shots for almost 3 years.
With over 20 years in the fitness industry, Caroline knows what works and what doesn't when it comes to health and wellness. You may even recognise Caroline from from Instagram as the fitness coach behind Caroline's Circuits' viral videos, or from publications such as the Daily Mail and Women's Fitness, 
In this blog, we explore Caroline's experience with our raw turmeric shots, and why she chose The Turmeric Co. over other 'health' shot brands.
First of all, congratulations on your incredible growth with Caroline's Circuits. What are your next moves?
Thank you! I have been quite overwhelmed by the last 3 years with the platform. What started out in lockdown as 50 members on Zoom (from my sitting room!) has now grown to a global community of 900 - whilst the tech has been upgraded, I am very much still in the same space delivering live workouts 4 x a week. It's an absolute joy to have such an amazing team of women and I'm so proud of what we have achieved together.
In terms of what's next there are lots of exciting plans in the pipeline to expand and grow but what will remain a constant are the 30 min classes all strength based and never a repeated session!
You connected with The Turmeric Co. in November 2021. What difference have our turmeric shots made for you in that time?
With a very busy lifestyle and strength training 5/6 days a week, I needed something which would really give me that support - not only to protect my joints & help with muscle recovery, but also to boost my immunity which can often be poor.
I suffered an ACL skiing injury in 2018, and now never take my health for granted. With my business, I cannot afford to get injured, so I try to keep really on top of my supplements and diet as a whole. I really feel that the shots have made a huge difference to my fitness and general wellbeing. My whole family takes them, as do many friends now! They really have helped a huge amount of my PT clients.
Why did you choose The Turmeric Co.'s shots over other brands?
Firstly, for me I was looking for a brand which would really make a difference to my training. I'd tried so many shots which were in essence just fruit juice, and it was the raw ingredients and fresh turmeric root in The Turmeric Co.'s formula that really stood out – this makes the ultimate difference in the long run.
Secondly, I wanted a brand which I could see working so well alongside my own. I felt that The Turmeric Co. started with me at the beginning of my crazy journey, was hugely supportive and as my own small business has grown it's been wonderful to see how on a much larger scale The Turmeric Co. has become a leader in its market. It's inspiring to watch.
How has nutrition impacted the way you approach fitness?
I remember a sports coach saying at school many years ago that you can never outrun a bad diet. You can have the best fitness regime in the world, but without a foundation of a good diet it's just pointless. I am now much more mindful of how I fuel my body in order to get results and stay on top of my game, but I'm also a huge believer in balance. I never advise my clients to take anything out of their diets, but to see everything with a more rounded approach and how they can improve it or add to it.
What 3 tips would you have for women who are looking to start improving their overall fitness?
To just not over complicate it. Exercise can be a minefield with so many options available and it can be confusing sometimes to know where to start.
Firstly, find something you enjoy which you will then stick to - remember all movement is good. Secondly, keep consistent - put it in your diary, keep a record and you can look back at just how far you've come. Thirdly, never underestimate the importance of strength training and functional fitness. Future proofing your body and staying strong (especially in midlife) will have huge benefits. As you get older, you will be less likely to get injured with strong muscles and bones.
What new shot flavours would you like to see from The Turmeric Co.?
As a huge coffee lover, I would absolutely love to see a coffee flavour in the future! I think it could be a total winner.
And finally, what's your favourite The Turmeric Co. shot?
Raw Turmeric and Ginger, 100%


"I would love to give The Turmeric Co. community a code to try my classes - if they use Caroline20 at the checkout www.carolinescircuits.com they will get 20% off their first month of classes with me."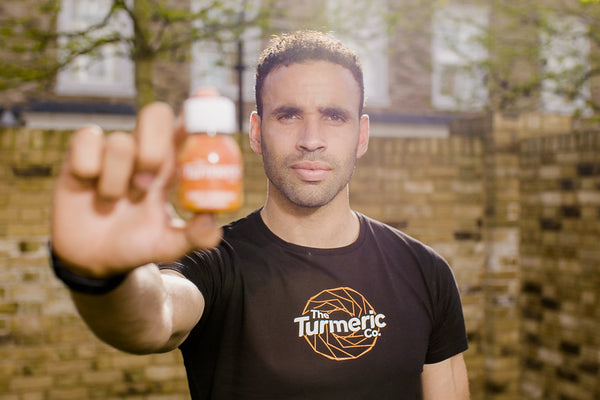 The Hal Robson-Kanu Guide To Fitness & Nutrition
Gain exclusive insight into habits that will make every day a healthy and fulfilling one.