As we approach the festive period and the temperature continues to plummet, there are a number of things we can all do to keep extra warm. Moving around more where possible, wearing extra layers, and consuming hot food and beverages are all handy techniques that aren't included in the heating bill.

However, deciding what to eat and drink can be a little more tricky. So, allow us to offer a few fantastically fiery and appetite appeasing suggestions to help you and your family combat the cold this winter.

Soy, Chilli and Ginger Salmon

Ginger is a superfood that can help to soothe the stomach and provide a gentle warmth from within. Fuse this warmth with the kick of the fresh red chilli and that cold weather will soon be forgotten!

Combine the prepared salmon with a mixed fresh salad for a delicious light lunch, or side it with rice and asparagus for a hearty, filling dinner.

Ingredients:
4 x salmon fillets
4 tbsp soy sauce
15 grams chopped fresh ginger
2 cloves chopped fresh garlic
1 chopped fresh red chilli to start, add a little more if you like it spicy.

How to make it:
Preheat your oven to 220℃, fan 200℃, gas mark 7.
Line a baking tray with foil and spread out the salmon fillets.
Mix together the soy sauce, ginger, garlic and chilli to create the sauce. Top the fillets with the sauce.
Bake for 15 minutes.

Lentil curry

Lentils are nutritious, delicious, and a great alternative to conventional meat options. They contain a healthy dose of protein themselves, but if you're trying to achieve calorific or protein intake goals, you can always add a little grilled chicken too.

Ingredients:
100g red lentils
2 x medium white onions, chopped
4 tbsp curry powder or paste
750ml vegetable stock
A mixture of chopped fresh vegetables of your choice
2 tbsp cooking oil of your choice

How to make it:
Heat the oil in a large, non-stick frying pan then fry the chopped onions until golden. Add a dash of vegetable stock and stir in the curry paste or powder (to form a paste), then slowly pour in the rest of the stock.
Simmer the red lentils in a saucepan for 20 minutes, adding in any chosen chopped veg for the final 5 minutes.
If you're siding this recipe with rice, boil it while the lentils are cooking.
Add the lentils and veg to your frying pan and mix together.
Winter Vegetable Soup

How about a mild midweek medley featuring all of your favourite vegetables? Winter vegetable soup is a very versatile meal – and one adored by people living in colder climates. It can be tailored to your specific taste by incorporating whichever vegetables and spices take your fancy. Here's a recipe featuring our favourite superfood picks:

Ingredients:
1 tbsp cooking oil
20 grams of butter
1 medium onion
100 grams of sliced leeks
300 grams of chopped carrots
300 grams of chopped parsnips
750ml vegetable stock
2 tsp ginger
2 tsp turmeric
Pinch of salt and pepper

How to make it (blender required):
Heat the oil and butter in a large saucepan, then cook the leeks until soft. Add the carrots and parsnips and stir for a few minutes.
Pour in the stock and boil until the vegetables are tender (20-25 minutes).
Grab your blender or food processor and fill it with your super-concoction. Add the ginger, turmeric, salt and pepper, and blend.
Return to the saucepan for a mellow reheat, then split your soup into 4 separate bowls. Serve with a tasty tidbit of fresh bread to mop it up.

Got your own favourite winter warmer recipes? Let us know in the comments below!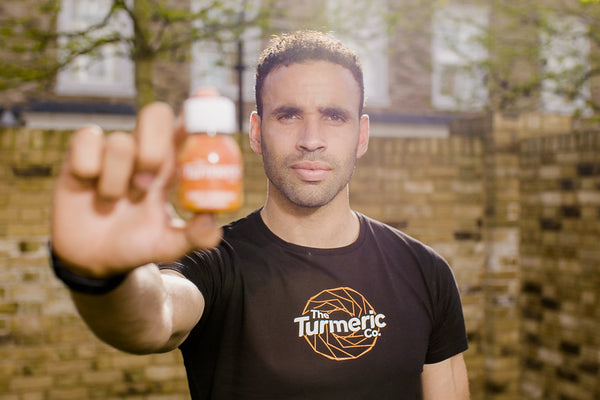 The Hal Robson-Kanu Guide To Fitness & Nutrition
Gain exclusive insight into habits that will make every day a healthy and fulfilling one.