Today's tasty topic is the bountiful beetroot – and it's difficult not to love this vibrant superfood!
Whether consumed raw, cooked, pickled… or liquidated, its flavour will never go amiss. With commonly associated health benefits including increased blood flow and reduced blood pressure, they bring a lot to the table. Let's take a look at how this pre-game energy booster is certainly a tough one to 'beet'!
The benefits of beetroot
So how can a single root vegetable help give you a competitive edge on the field? The fact that it comes from the same family as chard and spinach may give a subtle hint of the power it possesses. Let's investigate.
Keeps blood pressure down
Heart disease is the biggest killer in the world and yet there is so much we can do to help avoid it. It can't promise a miracle defence against genetic issues, but the controllable causes are in for a fight. In studies investigating the effect of beetroot on blood pressure, there have been some very positive results.
Conclusively, beetroot can lower blood pressure by a significant 4-10 mmHg within just a couple of hours. This is thanks to the high concentration of nitrates found in beetroot that dilate blood vessels, promoting a reduction in blood pressure. This is thanks to the high concentration of nitrates found in beetroot that dilate blood vessels, promoting a reduction in blood pressure.
Cognitive function
You can be at the peak of physical fitness but without sufficient brainpower, you're not going to perform. The frontal lobe of our brain is where decision making and working memory are associated. Beetroot has been shown to improve blood flow to this location, allowing clarity in your critical, higher-level thinking.
Beetroot and its ability to increase blood flow and oxygen levels in the brain has been shown to increase response and reaction times. This improved cognitive function is a surefire way to help protect your brain against degenerative diseases like dementia and Alzheimer's.
Athletic performance

Studies have shown that dietary nitrates can help improve the efficiency of the mitochondria,
which are the cells that generate the chemical energy required to fuel a cell's biochemical reactions. Mitochondria produce energy.
So if you're getting a reasonable daily dose of beetroots or beetroot juice, you've got yourself more efficient mitochondria working behind the scenes, and as a result, you're looking at prolonged energy to give yourself that edge in any physically competitive environment.
If you're after a convenient way to get the best of beets into your daily diet to give yourself the competitive edge, look no further than our beetroot infused turmeric shots here at The Turmeric Co - a real powerhouse of a shot!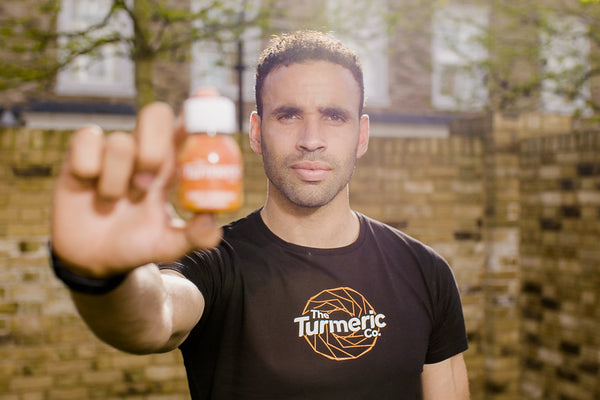 The Hal Robson-Kanu Guide To Fitness & Nutrition
Gain exclusive insight into habits that will make every day a healthy and fulfilling one.