Since The Turmeric Co. was founded in 2018, we have made it our mission to supply the nation with turmeric shots that pack a real punch – shots that don't just jumpstart mornings but also help to bolster immunity and ease chronic muscle pain.
The pandemic and subsequent lockdown saw us step up our efforts to meet demand, as for many people the importance of taking care of their bodies took on a new significance. We felt a sense of duty to give back to the British community, who are the bedrock of our business. 
Using the power of nature to thank the NHS
We cannot praise key workers enough. Particularly the National Health Service who have carried this country through the crisis and continue to power on.
We've all done our bit – anything from staying at home to wearing a mask or indeed actively delivering products or services to those that need it.
With the vaccine on the horizon, it's as important as ever to keep our immune systems fighting fit. And as a business, we have therefore chosen to increase our activity throughout the pandemic, distributing care packages to the NHS to help protect the immune systems of the people who need it most – and provide a much needed energy boost for the heroes whose mental and physical wellbeing needs all the support it can get right now.
Beneficiaries of these care packages include the COVID-19 Ward Manager and his team at St. Pancras Hospital, London, where these shots have fueled the efforts of the phenomenal NHS staff working tirelessly for the good of us all.
Why Turmeric? 
Based around the ayurvedic medicinal staple turmeric and its commendable counterpart curcumin, our shots use the raw root and come in an original flavour or combined with ginger or beetroot.
Curcumin is a powerful polyphenol that possesses anti-inflammatory properties and the ability to increase the amount of antioxidants our body produces. Curcumin has also been linked to boosting neuro-functionality and energy levels, while preventing detrimental diseases like Alzheimer's, cancer, and the world's top killer – heart disease.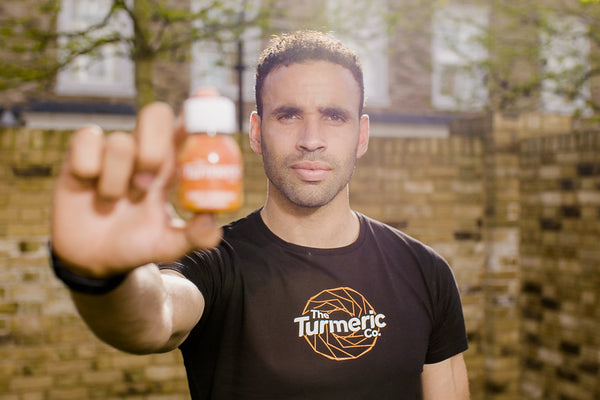 The Hal Robson-Kanu Guide To Fitness & Nutrition
Gain exclusive insight into habits that will make every day a healthy and fulfilling one.