Things are really sweetening up at The Turmeric Co. The award-winning functional nutrition brand have partnered with Everton Football Club as their official turmeric supplier.
Founded in 1878, Everton have competed in the top division of the Football League for a record 118 seasons. With an impressive alumni of legendary players such as Dixie Dean, Mikel Arteta and Graeme Sharp, Everton are notably one of the most established teams in the history of the beautiful game.
The Premier League side will be reaping the benefits of natural nutrition in a partnership that powers the Everton Men's and Women's first teams with potent raw turmeric shots - much to the delight of regular users Mason Holgate, Tom Davies and Izzy Christiansen. With nourishing, high-quality ingredients, The Turmeric Co. shots provide a nutrient boost tailored to you. The brand aims to support Everton in educating supporters about the purported benefits of the 100% vegan ingredients that fuel their blends.
This formal partnership has been announced on the back of Everton purchasing the shots directly to support the recovery of their players for nearly two years.
Why The Turmeric Co. shots?
Originating from Thomas 'Hal' Robson-Kanu's family recipe, today's flavoursome formula has been developed alongside the expertise of leading UK nutritionists. With a powerful 35g of fresh raw turmeric pressed into every shot, The Turmeric Co.'s refreshing blends are designed to enrich the nutritional value of diets of people from all walks of life 

For anybody looking for all-round nutritional support as part of a healthy, balanced lifestyle, The Turmeric Co. shots may just be the perfect companion for your wellness journey.
A meaningful partnership
The Turmeric Co. founder, Thomas 'Hal' Robson Kanu, experienced the power of turmeric when supplementing his own diet with the root to aid his recovery from a nutritional perspective. Speaking exclusively on the partnership, he is overjoyed to be supporting other professional athletes and club supporters to do the same: "It's a great honour to have secured another partner in Everton. We are confident that athletes will flourish with the extra performance and recovery support provided by our shots, and are looking forward to a long-lasting and stimulating relationship with the club.
Through this partnership, we aim to achieve much more than just fuelling the playing squad with their recovery; we hope to engage with the club's incredible supporter base, helping to educate and inform them around the importance of natural functional nutrition.
Our shots have been part of my life for so long. Early on in my career, I suffered with severe niggles and twinges as a result of injuries. Determined to get back to full fitness, my dad and I began to look at other options to support my journey. Research led us to raw ingredients which are packed with antioxidants. Taking this unique, homemade blend every day for 3 months, I started noticing a difference and have pretty much used these shots every day since. I look forward to the players and community at Everton improving their diet naturally, just as I did."
The Turmeric Co. team are extremely excited to be working with Everton, and cannot wait to support the wellness journeys of players, staff and fans alike.
Explore our range of shots today
Real People, Real Reviews
Swipe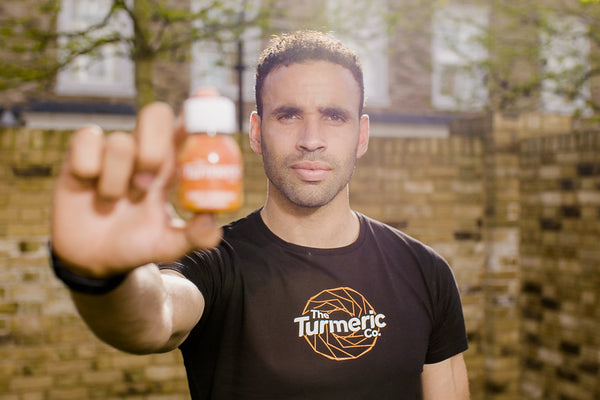 The Hal Robson-Kanu Guide To Fitness & Nutrition
Gain exclusive insight into habits that will make every day a healthy and fulfilling one.