Click the ingredients to discover more

Each ingredient in our shots is chosen specifically for its nutritional benefits. Turmeric is one of nature's most potent roots – that's why it's in everything we make. And, when combined with other nutritionally dense ingredients like beetroot and ginger, the value to your wellbeing rockets. Our high-pressure cold process ensures all ingredients retain as much of their nutritional value as possible, and we'll never use any powders, extracts or fillers – just high quality, whole, organic roots.
We balance the flavour of these powerful ingredients with other bright, fresh additions like fresh lemon and crushed watermelon flesh. These recipes are ten years in the making and, offer you unparalleled benefits with awesome textures and taste!
Original Ingredients: WATERMELON, TURMERIC ROOT (30%), PINEAPPLE, LEMON, FLAX OIL, BLACK PEPPER. No sweeteners, No Apple Juice, No Water, No Preservatives.
Ginger Ingredients: WATERMELON, TURMERIC ROOT (30%), GINGER ROOT (10%), PINEAPPLE, POMEGRANATE, LEMON, FLAX OIL, BLACK PEPPER. No sweeteners, No Apple Juice, No Water, No Preservatives.
Beetroot Ingredients: WATERMELON, TURMERIC ROOT (30%), BEETROOT (15%), POMEGRANATE, LEMON, GINGER ROOT, FLAX OIL, BLACK PEPPER. No sweeteners, No Apple Juice, No Water, No Preservatives.
Turmeric Original Nutritional Table Shown
| | per 100ml | per 60ml |
| --- | --- | --- |
| Energy | 156kJ | 94kJ |
| Energy | 37kcal | 23kcal |
| Fat | 0.3g | 0.18g |
| of which saturates | 0.05g | 0.03g |
| Carbohydrates | 7.9g | 4.8g |
| Sugars | 7.5g | 4.5g |
| Protein | 0.61g | 0.37g |
| Salt | <0.01g | <0.01g |

A scientific approach to powerful nutrition
While all of our shots are designed to support wellbeing and peak performance as efficiently as possible, the key ingredients in each of our three flavours offer a delightful variation of blends.
Any shot, any time you like, crucially they all are developed with 35g of raw, wet turmeric root and natural blends of black pepper – to increase absorption.
So, no matter whether you're looking for a natural, powerful kick to start the morning, a performance booster before a big day, or you're recovering from one the day before; there's a turmeric shot ready to support you.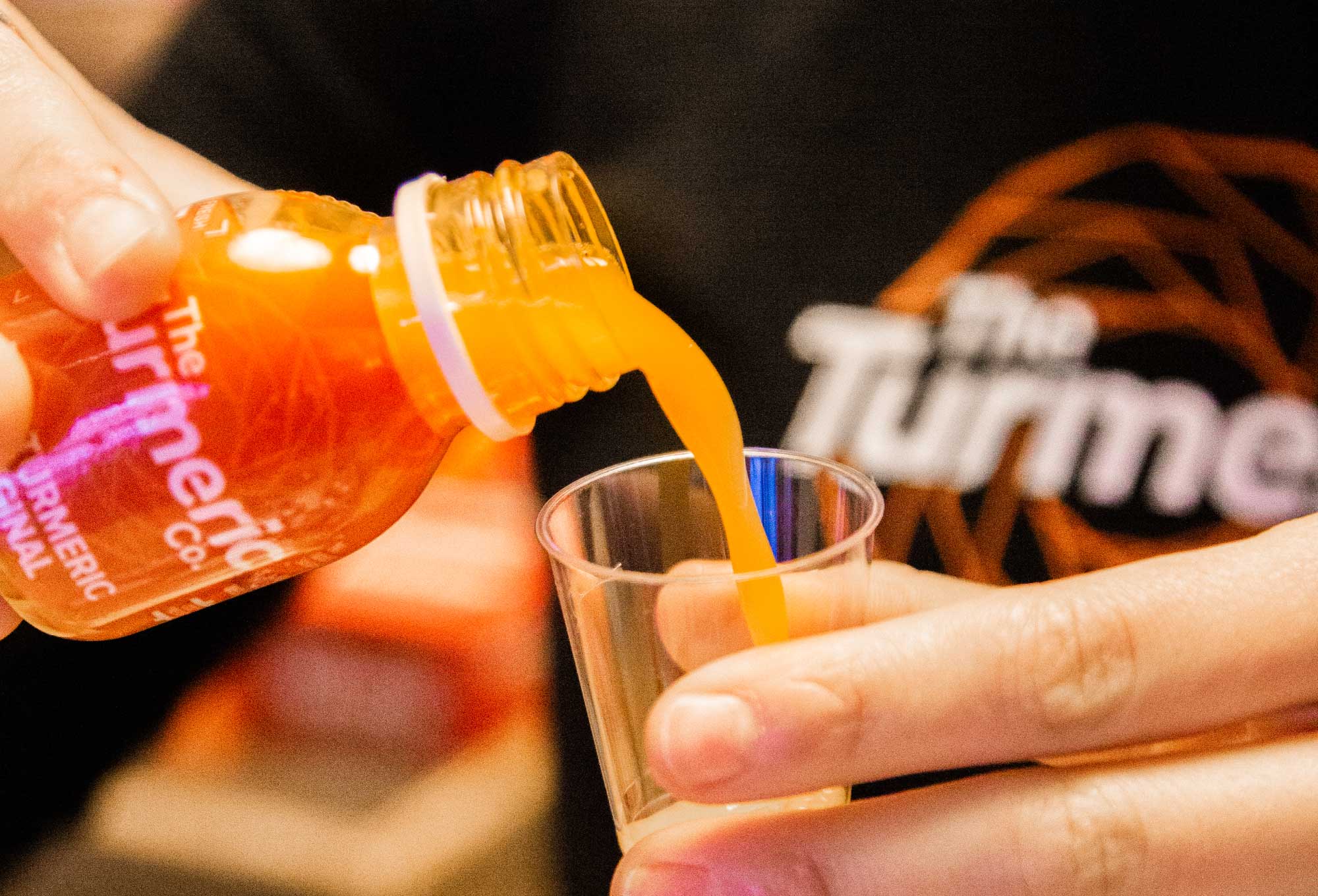 Tips to follow to get the most out of your Turmeric Co. Shots
Our shots are a powerful natural addition to your daily routine. To feel the longer-term benefits of our range, we recommend drinking one shot each day, an integral addition to a healthy ritual. Many of our customers enjoy taking their shot first thing in the morning or immediately after any activity.
Storage
Our shots are made FRESH, and we distribute them in chilled packaging. When they arrive, unpack your box and refrigerate the bottles right away to keep them fresh.
Refrigerate

Unpack your box of shots and keep them in the fridge

1

Drink!

We recommend 1 shot each morning, best taken on an empty stomach - Although this part is completely up to you (Shake well before opening)

2

Hot Tip

Why not try pouring your favourite shot into a mug of boiling water with a squeeze of lemon and honey

3

Recycle

The box insulation and icepack can be returned back to us. The bottles are also 100% recyclable

4

Does turmeric powder have the same nutritional benefit as the root?

Our NEW plastic bottles are made of entirely eco-friendly material, produced from 75% recycled plastic (rPET) and 25% biodegradable plastic, developed from sugar cane instead of environmentally damaging fossil fuels, and are therefore fully recyclable. It's the only environmentally friendly solution for our 100% fresh cold-pressed products that are naturally preserved under HPP to retain freshness.
Recycling
We'd love your help by participating in our recycling initiative. Return the insulation and ice packs in your box, and even your bottles. Print out your prepaid envelope (the link for this can be found in your order confirmation email, or request the link directly from us here with your order number in the subject). And take your recycling bag to your local Royal Mail office with your label attached.